ERIA's SME Mission to Malaysia Brings Japanese and Malaysian Enterprises Together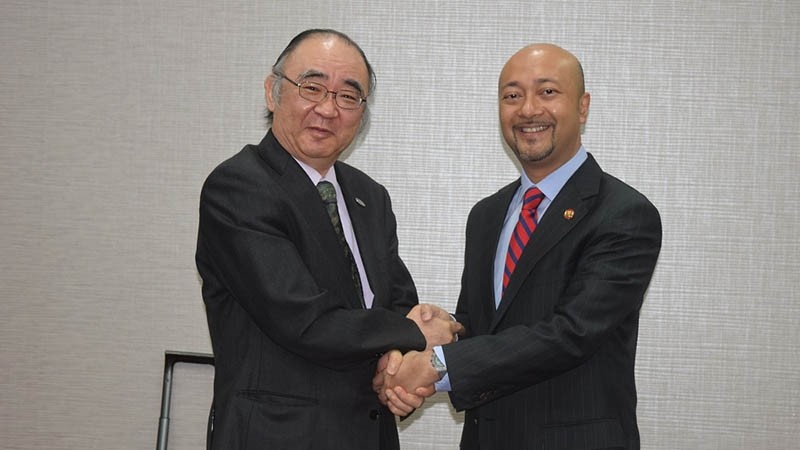 The 'Only One' Small and Medium-sized Enterprises (SME) Mission to Malaysia, was held on 2-4 March 2015 in Kuala Lumpur. The mission, co-organized by APEN and ERIA, was attended by 21 delegates from 11 Japanese SMEs. ERIA Executive Director, Prof. Hidetoshi Nishimura gave the opening remarks where he encouraged SMEs to be proactive in exploring trade and investment opportunities in ASEAN and East Asia.
After the workshop, the mission visited SME Corporation Malaysia, and met with CEO Dato' Hafsah Hashim. At the informative and communicative meeting ERIA and APEN highlighted their mission and vision to develop SMEs in ASEAN as drivers of economic growth.
'Only One' SME is an enterprises that has leading technology in a specific area. The 11 Japanese SMEs that took part in the mission have high technical know-how in agriculture, auto parts, construction, jewelry, and IT services, among others. The 11 SMEs have an interest in investment and business expansion in Malaysia.
APEN, ERIA, and Universiti Teknologi Malaysia (UTM) conducted a workshop where the delegates from the Japanese SMEs exchanged ideas with delegates from Malaysian companies on working together and expanding business ties.
The delegation paid a courtesy call to Dato' Seri Mukhriz Mahathir, Chief Minister of the State of Kedah, Malaysia, on 4 March. Prof. Hidetoshi Nishimura expressed his sincere appreciation to the Chief Minister for receiving the mission. Additionally he said ERIA will support the ASEAN's chairmanship of Malaysia in 2015 by preparing a development vision document for Malaysia and by working to strengthen cooperation among ASEAN, ERIA, and Malaysia. Dato' Seri Mukhriz Mahathir welcomed the delegates to invest and do business in Kedah.
CHOOSE FILTER