ERIA Takes Part in the 8th Dialogue between FJCCIA and Secretary-General of ASEAN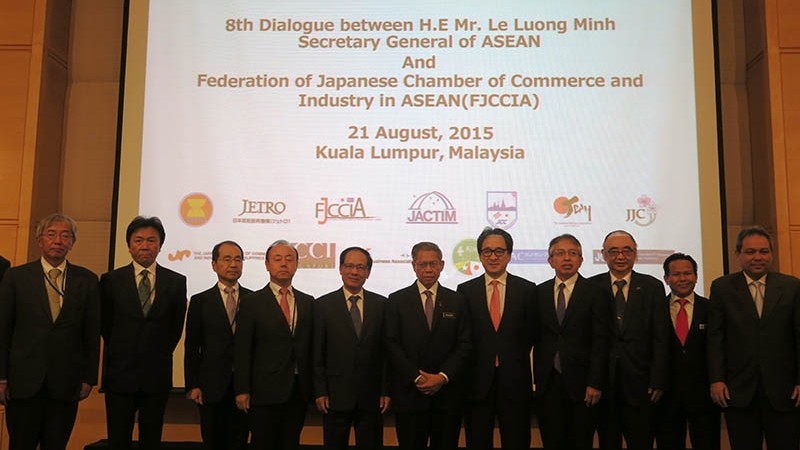 Prof. Hidetoshi Nishimura, President of ERIA, took part in the 8th Dialogue between the Federation of Japanese Chambers of Commerce and Industry in ASEAN (FJCCIA) and the Secretary-General of ASEAN, H.E. Mr. Le Luong Minh, on 21 August 2015, in Kuala Lumpur, Malaysia.
Inaugurated in 2008, the annual dialogue provides a forum to discuss the issues and recommendations raised by the Japanese business community operating in ASEAN with the Secretariat-General.
This year's dialogue focused on issues that need to be addressed by the end of 2015, it also provided FJCCIA an opportunity to share its views and inputs on the ASEAN post-2015 scenario.
In response to the requests presented by FJCCIA to the Secretary-General of ASEAN, Prof. Nishimura highlighted three of ERIA's ongoing and future projects covering the issues of non-tariff measures and non-tariff barriers, reducing regulatory burdens and good regulatory practices, and infrastructure and connectivity.
ERIA has been contributing to the collective efforts of ASEAN member states and the business sector in the region given its Sherpa status to support the Chair of ASEAN. Prof. Nishimura also stressed that continuing the dialogue will provide the momentum and determination needed for an integrated ASEAN in the period from 2016 to 2025.
FJCCIA represents Japanese member companies based in ASEAN countries. Japan is the second-largest source of foreign direct investment inflow to ASEAN, and is the second largest trading partner of ASEAN.
CHOOSE FILTER