ERIA Study Group Discusses Sustainable Palm Oil Production and Trade Dynamics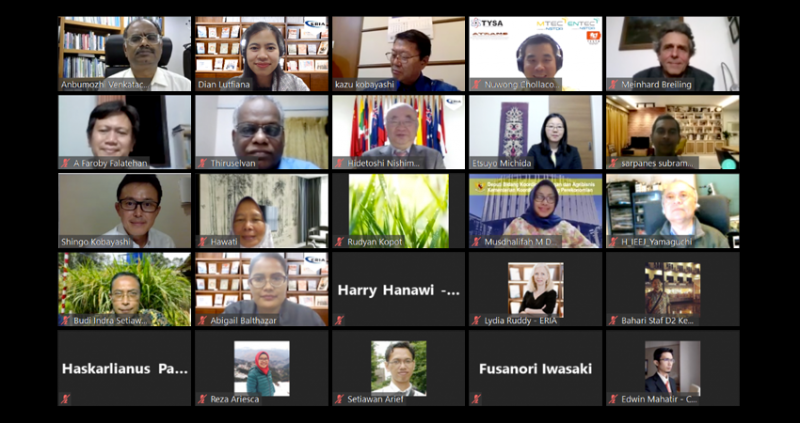 Jakarta, 17 February 2021: ERIA's Sustainable Palm Oil Production and Trade Dynamics in ASEAN and East Asia working group held a workshop with key partners to report on the progress and key findings of the study. This project aims to explore the potential role of palm oil in food and transport energy supply in ASEAN and East Asia, to document the past economic and social contributions of palm oil industry in major producer economies, and to recommend improvements in certification of government policy to scale up low-carbon palm oil production while pursuing both Sustainable Development Goals and Paris Agreement on carbon emission reduction.
The group was welcomed by Dr Venkatachalam Anbumozhi, Senior Energy Economist at ERIA and Mr Shingo Kobayashi, the senior Executive at Sinar Mas.
In his opening remarks, Prof Hidetoshi Nishimura, President of ERIA, provided an overview of the industry and market potential for both food and energy purposes. The development of the palm oil industry in three ASEAN countries - Indonesia, Malaysia, and Thailand - has brought positive outcomes by increasing foreign exchange income and employment rates, which align with the Sustainable Development Goals (SDGs) and the Paris Climate Agreement. However, this has also resulted in a negative impact of uncontrolled palm oil expansion. To tackle the negative impact, Prof Nishimura highlighted the importance of streamlining global sustainability standards such as RSPO (Roundtable on Sustainability Palm Oil), and country specific mandatory standards - namely ISPO (Indonesia Sustainable Pam Oil), and MSPO (Malaysia Sustainable Palm Oil).
Dr Musdhalifah Machmud, Deputy Minister for Food and Agriculture, Indonesia Coordinating Ministry for Economic Affairs, highlighted the importance of palm oil as a strategic commodity for the sustainable development of Indonesia. It has contributed to employment of about 16 million people and averages 20 billion per annum of export revenue. During the pandemic, palm oil has contributed around 13% of the Indonesia GDP.
In response to the demand for sustainable palm oil, the Indonesian government now requires all palm oil companies and smallholders to attain ISPO certification to minimize the impact of palm oil plantation activities.
Mr Rudyan Kopot, Indonesian Chamber of Commerce and Industry (KADIN) highlighted the industry perspective on both supply and demand dynamics of Palm oil in Indonesia. From the demand side, palm oil currently is not focused only on food security, but also energy security. Industry expects that palm oil consumption for biodiesel will reduce the need for conventional diesel fuel as well as carbon emissions.
From the supply side, expanding planted areas to increase the CPO is not sustainable. Therefore, KADIN initiated a program in 2021-2024 to increase palm oil production through increasing smallholders' productivity. The program is expected to enhance the productivity by 50% without increasing the size of plantations. Regarding the issue of certification, the Chamber encourages the development of global standards for sustainable palm oil.
A series of technical presentations were provided to update study group members in the progress of the research.
Dr Kaoru Yamaguchi, The Institute of Energy Economics (IEEJ), presented on Energy Palm oil Demand Analysis, Dr Etsuyo Michida from IDE-JETRO discussed the issue of public acceptance and effectiveness of self-regulating sustainable standards for the palm oil industry. Prof Budi Setiawan and Dr. Faroby Falatehan, Institute of Agriculture Bogor (IPB) shared the results of their field surveys on sustainable palm oil smallholder production in Padang, Indonesia. Similar studies are planned for Malaysia and Thailand. Prof Meinhard Breiling, TU Wien, Austria, presented on international markets, especially the European Union. Dr Hawati Janor, Faculty of Economics and Management University Kebangsaan Malaysia focused on financing solutions in the palm oil industry with a case study from Thailand. Lastly, Dr. Thayalan Gopal of Malaysia and Dr Nuwong Chollacoop, National Science and Technology Development Agency (NSTDA) presented the initial findings of Sustainable Palm Oil Field Surveys in Malaysia and Thailand respectively.
Open discussion followed the technical presentations. Prof Nishimura expressed concern regarding EU policies on taxes and whether they might be applied to the palm oil sector. He suggested the next meeting could be in the form of a webinar inviting more practitioners on palm oil for final draft of the report which is expected to be published in late May 2021.
CHOOSE FILTER