ERIA President Says International Production Networks in Asia Remain Robust and Resilient Against Various Shocks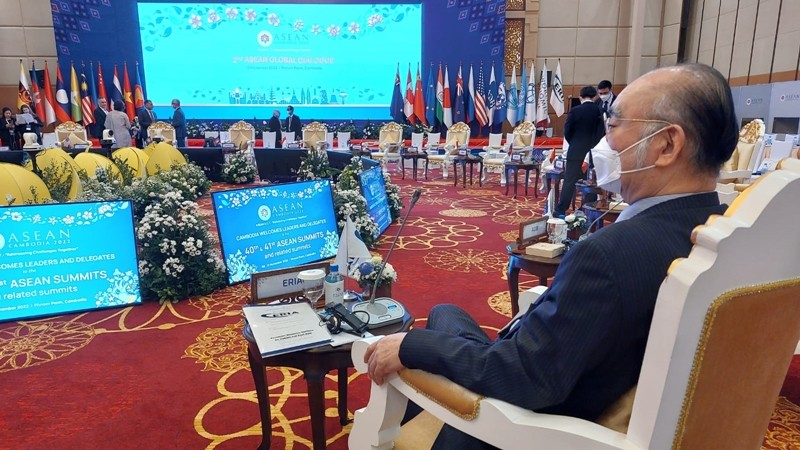 Phnom Penh, 11–13 November 2022: Whilst the COVID-19 pandemic has brought into question the fragility of global value chains, research shows that international production networks in Asia remain robust and resilient against various shocks. This assessment was made by Prof Hidetoshi Nishimura, President of the Economic Research Institute for ASEAN and East Asia (ERIA), at the 2nd ASEAN Global Dialogue, held on 13 November 2022 in Phnom Penh, Cambodia. The dialogue was part of the 40th and 41st ASEAN and Related Summits held there on 11–13 November 2022.
In his presentation before Heads of ASEAN Member States, ASEAN Dialogue Partners, and leaders of international organisations, including the World Economic Forum, the International Monetary Fund, the Asian Development Bank, the United Nations Economic and Social Commission for Asia and the Pacific, and the World Bank, Prof Nishimura said that leveraging the competitiveness of international production networks and digital technology in all aspects forms the core of the Comprehensive Asia Development Plan 3.0. The plan, now in its third iteration by ERIA, was launched and presented at the East Asia Summit Economic Ministers Meeting in September 2022.
Prof Nishimura informed his audience of ERIA's Centre for Digital Innovation and Sustainable Economy, a new physical and virtual platform for policymakers, businesses, and academics, designed to transform Asia into a fully digitalised sustainable economy. He said that the centre will respond to ASEAN's urgent needs in implementing the ASEAN Digital Economy Framework Agreement, the ASEAN Post-2025 core vision, and the establishment of a carbon-neutral economy.
Image Gallery
CHOOSE FILTER