ERIA Participated in the B20 – G20 Dialogue: Trade and Investment Task Force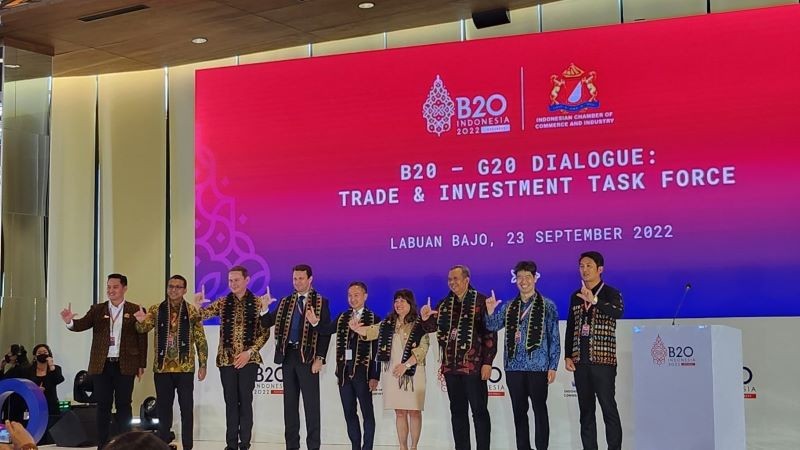 Labuan Bajo, 23 September 2022: The Economic Research Institute for ASEAN and East Asia (ERIA) participated in the B20-G20 Dialogue: Trade and Investment Task Force. The one-day event, organized by the B20 Trade and Investment Task Force (B20 TITF) and the Indonesian Chamber of Commerce and Industry (KADIN), was held in hybrid. Mr Koji Hachiyama, the Chief Operating Officer (COO) of ERIA, was one of the speakers at the panel session on 'Post-pandemic Global Trade and Investment Governance in Maximizing Innovation and Digitalization for Global Economic Recovery, Growth and Resilience'.
The event opened with a welcoming address from the Chair of B20 Indonesia, Ms Shinta Kamdani. She highlighted some pressing issues which B20 Indonesia has covered, such as transparency in trade facilitation, building capital and capacity of MSMEs, and acceleration of voluntary carbon markets. The speech was followed by the presentation of TITF's main outcomes by Mr Arif Rachmat, Chair of B20 TITF. He made four main recommendations, including (i) promoting open, inclusive global trade, and investment multilateral governance, (ii) facilitating innovation, digitalization, and technology adoption, (iii) amplifying support to attain inclusivity in global value chains, and (iv) making trade and investment an impactful driver of the greener economy.
Through pre-recorded videos, four ministries gave speeches. Mr Airlangga Hartarto, Coordinating Minister for Economic Affairs of the Republic of Indonesia, talked about integrated economic regulations to foster trade and investment. Mr Zulkifli Hasan, Minister of Trade of the Republic of Indonesia, talked about trade and investment role in achieving stronger post-pandemic recovery. Mr Bahlil Lahadalia, Minister of Investment of the Republic of Indonesia, talked about the sustainable investment for green and just transition. Mr Agus Kartasasmita, Minister of Industry of the Republic of Indonesia, talked about the acceleration of industry 4.0 to support global trade and investment.
In the first panel session, Mr Koji Hachiyama delivered his remarks emphasizing the vital role of technology in investment, trade, and business, particularly during the recovery period after the COVID-19 pandemic. With the acceleration of digitalization, countries have developed a stronger foundation and more resilient International Production Networks.
He then announced that ERIA has launched the Comprehensive Asia Development Plan 3.0, or CADP 3.0, which aims to build a digitally connected society and economy under the four pillars of Integration, Innovation, Inclusiveness, and Sustainability. He invited G20 to support and realize the world envisioned by CADP 3.0. To do so, Mr Hachiyama conveyed that is essential to develop a digital infrastructure to support the startup community and to improve the human resources quality, which creates an environment that promotes the digital trade. Public-private partnership is also vital to encourage the involvement of the private sector. Finally, he highlighted the necessity to strengthen cybersecurity measures to enable digital business safely.
The second-panel session covered the topic of inclusive and resilient global value chains in the context of moving towards sustainable trade and investment. It was discussed by some prominent scholars, including Ms. Jasmine Begum, Director of Legal, Government and Corporate Affairs Microsoft Asia, Dr Juan Jose Daboub, Task Force Co-Chair; Director of Phillip Morris International, and Mr Ernst Coppens, Managing Director and CEO of Bayer ASEAN.
The event ended with concluding remarks by Mr Dharma Djojonegoro, Deputy Chair of B20 TITF. He summarized some key points from the panel discussion. Trade and Investment should drive growth that is sustainable, equally just, and equitably distributed. The potential of the ocean economy can be fully unleashed for global growth with sustainable practices.
Image Gallery
Related Articles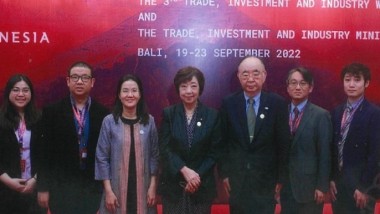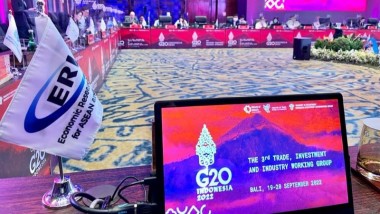 CHOOSE FILTER