ERIA Organises World Tsunami Awareness Day 2016 in Jakarta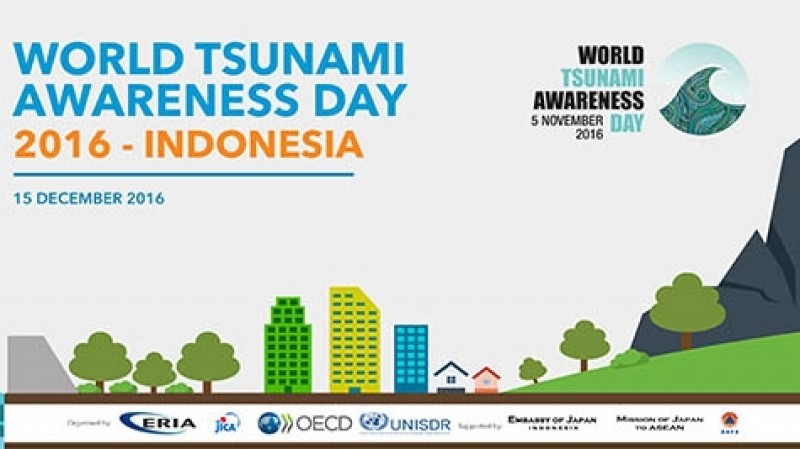 'World Tsunami Awareness Day (WTAD) 2016 - Indonesia' was held in Jakarta on th 15th December 2016.
United Nations Office for Disaster Risk Reduction (UNISDR), Japan International Cooperation Agency (JICA), Organisation for Economic Co-operation and Development (OECD), and Economic Research Institute for ASEAN and East Asia (ERIA), in cooperation with Badan Nasional Penanggulangan Bencana (BNPB) and Government of Japan hosted an international symposium on 'World Tsunami Awareness Day (WTAD) 2016 - Indonesia.'
This symposium provided a forum to raise awareness of the WTAD which was established by the UN General Assembly in New York in December of 2015. In the year since then, there have been about a dozen events to share information about tsunamis, especially on the issue of preparedness.
As stated on the UNISDR website: 'Tsunamis are rare. But they can be extremely deadly. In the past 100 years, more than 260,000 people have perished in 58 separate tsunamis. At an average of 4,600 deaths per disaster, the toll has surpassed any other natural hazard. Such a stark impact isn't inevitable, however. Early warning systems can save lives. Equally important is community and individual understanding about how and where to evacuate before a wave strikes. Tsunamis know no borders, making international cooperation key for deeper political and public understanding of risk reduction measures. As a result, the UN General Assembly has made 5 November into World Tsunami Awareness Day, with the first edition being held this year.'
As the last event in a series of seminars and commemoration events in WTAD's first year, this symposium shared the outcomes of other events, such as the 'High School Students Summit on World Tsunami Awareness Day in Kuroshio' in Japan on 25-26 November 2016.
Prof Hidetoshi Nishimura, President of ERIA, opened the symposium with condolences to the friends and families of victims of the December 7, 2016 earthquake which struck Aceh. He stated that the goal of the World Tsunami Awareness Day is to enhance awareness of tsunami disasters by recognising the importance of preparedness for disasters through early warning systems, the use of traditional knowledge, the application of the 'Build Back Better' concept, as well as the prompt dissemination of information. Moreover, he stated that in order to share lessons learnt from past disasters for future generations, the 'live to tell' for the future is very important. Therefore, a resolution of World Tsunami Awareness Day strongly recommends education on effective disaster prevention and disaster drills to improve the awareness of tsunamis in each member country.
H.E. Mr Toshihiro Nikai, Secretary General of the Liberal Democratic Party of Japan sent a message by video since he was unable to attend in person. He thanked H.E. Vice President Kalla of Indonesia for his attendance at the event. He stressed the need for international cooperation saying: 'I believe that with the assistance of global communities, we need to tackle tsunami disaster preparedness by being determined to decrease victims as much as possible, and if possible, nobody should be victim to tsunami disasters.'
H.E. Ambassador Kazuo Sunaga, the Japanese Ambassador to ASEAN, welcomed attendees with an overview of Japan's efforts to develop a region-wide emergency response system for ASEAN. He stated that Japan has been intensifying efforts to cooperate with ASEAN, such as by supporting the ASEAN Coordinating Centre for Humanitarian Assistance (AHA Centre). Japan cooperated with AHA Centre in strengthening regional capacity in preparing for and responding to disasters. According to Ambassador Sunaga, Japan has supported the establishment of integrated ICT System connecting the AHA Centre and ASEAN Member States, which has entered the third phase. The use of ICT enables better monitoring, preparedness, and readiness to any disasters.
H.E. Drs H. Muhammad Jusuf Kalla, Vice President of Indonesia then gave his opening remarks in which he described Indonesia's long history of tsunamis, a history they share with Japan. 'We need to support our people to be prepared to face tsunamis.' According to him this can be done through a combination of early warning systems, as well as training and awareness building. He also stressed the importance of local knowledge, giving the example of the Island of Simeulue off the coast of Aceh where the victim count from the 2004 tsunami was low because local knowledge, in the form of smong, traditional spoken words that are been handed down from generation to generation, prepared the people for the warning signs and the appropriate response.
Other Highlights
H.E. Mr Teru Fukui, Member of the House of Representatives of Japan, summarised the public awareness activities held worldwide in 2016, after 'World Tsunami Awareness Day' was established. He also commended the outcome of the High School Students Summit in Kuroshio, Kochi, Japan where 400 students discussed the tsunami disaster issues confronting life and nature. He reaffirmed the importance of building national resiliency to national hazards and emphasised that people share the strong will not to lose any more lives in the face of a tsunami disaster.
Mr Dody Ruswandi, Secretary General of the National Disaster Management Agency of Indonesia, outlined the activities of the Indonesian government in the area of disaster management. He thanked the Government of Japan and the ASEAN Coordinating Centre for Humanitarian Assistance (AHA) Centre for their continued assistance over the years.
A highlight of Symposium was the presentations by three Japanese students and two students from Aceh on the Report on the High School Students Summit in Kuroshio in November. This session was moderated by Dr Yuki Matsuoka, the Head of UNISDR Office in Japan. Two Japanese student chairs of the Summit reported that the Kuroshio Declaration was adopted at the Summit as the outcome. At the Summit, they discussed what the next generation could do to overcome the risks of disasters caused by natural hazards. The stories of the Aceh students were quite moving as both of them had been personally affected by disasters and they stated that what they learned at the Summit inspired them to learn more and take actions. A copy of the 'Kuroshio Declaration' was distributed to all attendees. The Declaration states: 'We hereby declare that we will continue to make our best effort to understand the risks and effects of tsunamis, to pass on our predecessors' experiences and knowledge of disaster mitigation and risk reduction to future generations, and most importantly, to save people's lives from tsunamis and other hazards.'
The Mayor of Kuroshio Town, Mr Katsuya Onishi, spoke highly of the students' work and emphasised that many of the students who had worked on it had lost family including parents and siblings in natural disasters. He also spoke of the efforts of his town, which is expected to be the site of a major tsunami, to prepare residents, especially children by focusing on the value of life and not just on disaster preparedness.
H.E. Mr Vongthep Arthakaivalvatee, Deputy Secretary-General of ASEAN for ASEAN Socio-Cultural Community spoke about ASEAN's programs for disaster preparedness, especially the ASEAN Safe Schools Initiative and One ASEAN One Response.
In closing, H.E. Prof Akiko Yamanaka, Former Vice Minister for Foreign Affairs, Japan, Special Ambassador for the World Tsunami Awareness Day, and Special Advisor to ERIA President spoke of the need to move disaster preparedness out of the technical realm and into the broader awareness of all people. Going forward she proposed an approach similar to Preventative Diplomacy that consists of four steps: (1) Preparation for the natural disaster (2) Quick Rescue of the Victims (3) Recovering from the disaster (4) Reconstruction for the risk reduction of the next disaster. She ended her talk with a quote from Aristotle: 'It is much more difficult to organise peace than to win a war; but the fruits of victory will be lost if the peace is not well organised. '
The Economic Research Institute for ASEAN and East Asia (ERIA) is an international organisation based in Jakarta. Since its founding in 2008, ERIA, through its research, supports the regional economic integration process among ASEAN member countries. As the leading economic think tank in the region and the Sherpa institution for the East Asia and ASEAN Summit process, ERIA's research and policy recommendations have influenced the policymaking process in the region.
Image Gallery
CHOOSE FILTER