ERIA Launches New Website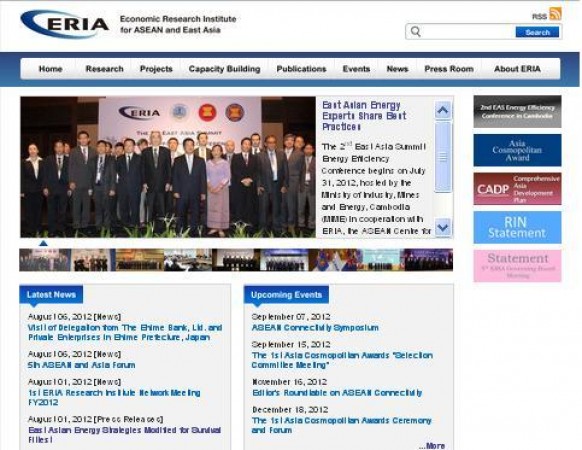 The Economic Research Institute for ASEAN and East Asia (ERIA) announced today the official launch of ERIA new website.
It is a website devoted to spread out the information easily all around the world not only for specific target but also for the public who need the information about economic research in ASEAN and East Asia. The new website provides a more comprehensive source of ERIA information on economic research activities and projects. It also provides publication materials, such as, books, policy briefs, discussion papers, research project papers which are published by ERIA and can be downloaded easily.
Some special features of the new website are;
• Fresh Design We created a more dynamic design based on the priority of the information from the point of views of readers of or visitors to ERIA website with a focus on delivering information about ERIA activities and projects.
• Improved Functionality The new website has a new search function or navigation which helps the visitors to find the information more easily. In this function, writing down a keyword will lead to all the related information.
The website also has pictures in flash system which will make the search and view experience more clear and attractive to the visitors. ERIA expects that the new website will add to its contribution in developing the ASEAN and East Asian countries through research and information and it could be the main engine for information to the world.
For further information, please contact to: Mr. Hiroshi Okasaki, Director of Public Relations: 021 -5797-4460 ext.201, email: [email protected] Ms. Fitria Abuzah, Assistant of Public Relations: 021-5707-4460 ext. 112, email: [email protected]
CHOOSE FILTER