ERIA Hosts the 12th Editors' Roundtable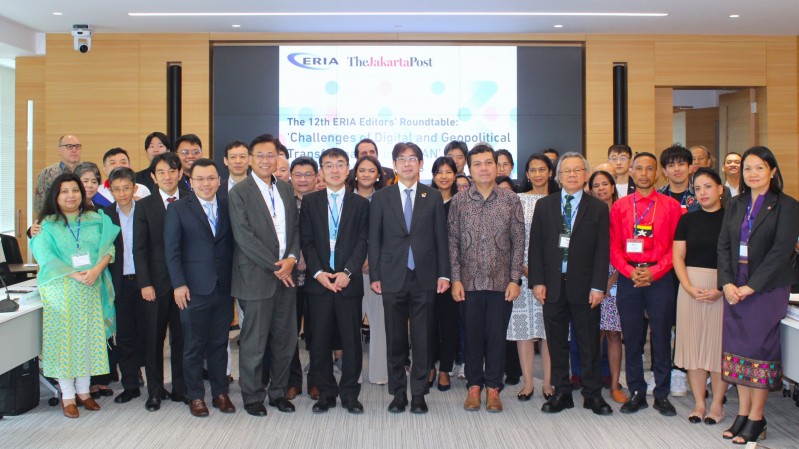 Jakarta, 7 November 2023: ERIA's Communication Department, in collaboration with our esteemed media co-host, The Jakarta Post, was thrilled to host the 12th ERIA Editors Roundtable with the theme 'Challenges of Digital and Geopolitical Transformation in ASEAN' at the ERIA Digital Innovation and Sustainability Center (DISC).
This gathering brought together 25 distinguished journalists from ASEAN and East Asian nations. This year, we welcomed journalists from Brunei, Cambodia, Laos, Malaysia, Myanmar, Singapore, Thailand, the Philippines, Vietnam, Japan, Korea, India, China, Indonesia, and Timor Leste. The event served as a unique platform for participants to engage with fellow journalists from diverse backgrounds and share their valuable insights and practical tips.
The event commenced with opening remarks delivered by Prof. Tetsuya Watanabe, the President of ERIA, and Mr. Taufiqrahman, Editor-in-Chief of The Jakarta Post. The event was also graced by the presence of Amb. KIYA Masahiko, who delivered a keynote speech, shedding light on the collective achievements and challenges faced by ASEAN and Japan, as well as the future steps they plan to take together.
Subsequently, the program featured five engaging panel discussions, each covering a fascinating topic, including digital transformation, energy transition, ASEAN-Japan cooperation, ASEAN's role as a Pillar of Peace within the Indo-Pacific, and the media's roles and perceptions of Indo-Pacific strategies.
The distinguished lineup of speakers included:
Session One: Transforming ASEAN through Digital Innovation Moderated by Dr Lurong Chen, Senior Economist at ERIA.
Speakers:
Koji Hachiyama, Chief Operating Officer at ERIA
Isya Hanum, Government Affairs and Public Policy Manager at Google
Nathanael Faibis, Chief Executive Officer at AloDokter
Session Two: Powering the Future: Navigating ASEAN's Energy Transition (with a focus on appropriate technologies) Moderated by Fitri Wulandari, a freelance journalist.
Speakers:
Alloysius Joko Purwanto, Energy Economist at ERIA, focusing on Electric Vehicles
Hariadi Budiman, Chief Representative of Esso Indonesia Inc, ExxonMobil Indonesia
Putra Adhiguna, Energy Technologies Research Lead at the Institute for Energy Economics and Financial Analysis (IEEFA)
Session Three: ASEAN-Japan Cooperation under Indo-Pacific Frameworks Guided by Dr Keita Oikawa, Economist at ERIA.
Speakers:
Assoc Prof Kei Koga, from the Public Policy and Global Affairs Programme at the School of Social Sciences, Nanyang Technological University (NTU)
Dr. Lam Peng Er, Senior Research Fellow at the East Asian Institute, National University of Singapore
Mr. Kavi Chongkittavorn, Senior Communications Advisor at ERIA
Session Four: ASEAN as a Pillar of Peace: Fostering Stability in the Indo-Pacific Moderated by the esteemed Prof Dewi Fortuna Anwar from BRIN.
Speakers:
Assoc Prof Dr. Jittipat Poonkham, from the Faculty of Political Science at Thammasat University
Prof Kuik Cheng-Chwee, Head of the Centre for Asian Studies (iKAS), Institute of Malaysian and International Studies (IKMAS), National University of Malaysia (UKM)
Mr. Raymond Quilop, Assistant Director at the ASEAN Political and Security Department
Panel Discussion: Media's Roles and Perceptions of Indo-Pacific Strategies Guided by Dane Anwar, representing Kompas.
Speakers included:
Ko Hirano, Deputy Editor at Kyodo News
Ismira Lutfia, Journalist at Berita Harian
Olivia Her, Hanoi Bureau Chief at Hankook Ilbo
Nguyen Thanh Tuan, Deputy Managing Editor at Zing News
Philip Golingai, Online Editor at The Star Malaysia
Image Gallery
Related Articles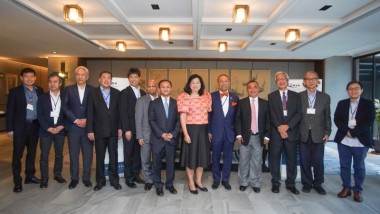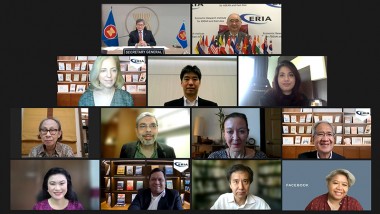 CHOOSE FILTER