ERIA Hosts 7th ASEAN Connectivity Symposium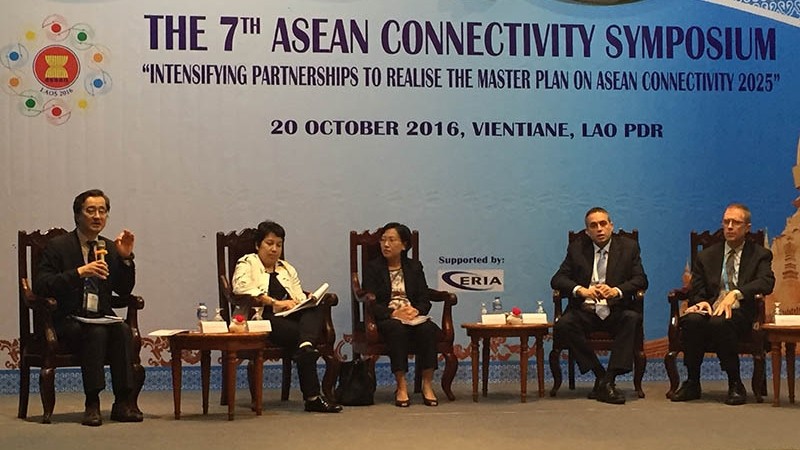 Vientiane, Lao PDR. On 20 October 2016, the Economic Research Institute for ASEAN and East Asia (ERIA) hosted the Seventh ASEAN Connectivity Symposium with the topic 'Intensifying Partnerships to Realise the Master Plan on ASEAN Connectivity 2025'. The full day symposium brought together over 180 government officials, diverse stakeholders, and experts on connectivity.
The symposium followed upon the adoption of the Master Plan on Connectivity (MPAC) 2025 by the ASEAN leaders at the 28th ASEAN Summit in September which marked a significant milestone for the region's efforts to deliver ASEAN connectivity in the next decade.
The Symposium was an important step in the process of socialising the MPAC 2025 and allowed policy makers, academics, and the private sector to share ideas on cooperation and effective delivery of the Plan.
In his welcome remarks, Ambassador Latsamy Keomany, Chair of the ASEAN Connectivity Coordinating Committee (ACCC) and Permanent Representative of Lao PDR to ASEAN, remarked that the 'journey to connectivity is complex but promising.' Professor Hidetoshi Nishimura, President of ERIA, gave opening remarks during which he raised the issue of ASEAN's increasing global prominence and posed a question about what kinds of deliverables can be offered to stakeholders beyond ASEAN - indeed around the world.
H.E. Thongphane Savaphet, Vice Minister of Foreign Affairs, Lao PDR, gave the keynote address, highlighting the importance of connectivity for a country like Lao PDR that needs to transform from a 'land locked' country to one that is 'land linked'. He noted the importance of working together in partnership across borders and sectors, and encouraged participants to openly discuss challenges and opportunities during the Symposium.
The Symposium was divided into five sessions with panel discussions that included Ambassadors from most of the ASEAN member countries as well as Ambassadors to ASEAN from Dialogue Partners.
The first session introduced the MPAC 2025. Ambassador Elizabeth P. Buensuceso, ACCC Representative of the Philippines and Permanent Representative of the Republic of the Philippines to ASEAN spoke on the topic of lessons learned from MPAC 2010 and the way forward. To effectively implement MPAC 2025 she said five issues need to be handled: socialisation of MPAC, identification of appropriate focal points, development of a pipeline of good projects, review of ACCC and national coordinators, and ownership.
Session two focused on implementation of the MPAC. Ambassador Min Lwin, ACCC Representative of Myanmar and Permanent Representative of the Republic of the Union of Myanmar to ASEAN, noted that the development process for the MPAC 2025 was very thorough and resulted in a high quality document that is very focused and action oriented. He suggested that stakeholders need to coordinate to avoid duplication. He also cautioned that translating regional projects to national policies would be a challenge moving forward making early engagement crucial so that national actions could be prioritised.
Ambassador Busadee Santipitaks, ACCC Representative of Thailand and Permanent Representative of the Kingdom of Thailand to ASEAN, raised the issue of the need for large amounts of funding to realise the goals of MPAC and advised that efforts should focus on developing bankable projects that will attract the private sector. Addressing the need to prioritise national actions, she suggested close consultation, effective coordination between pillars, as well as monitoring and reporting.
During session three, the Dialogue Partners indicated strong support for the MPAC 2025 and looked forward to working with ASEAN on connectivity. Ambassador Elizabeth Jane Duke, Ambassador of Australia to ASEAN, highlighted the importance of engaging the private sector and that Australian infrastructure, logistics and digital innovation companies are ready to invest.
Ambassador Francisco Fontan, Ambassador of the European Union (EU) to ASEAN indicated that EU companies could be strong partners for knowledge sharing. Ms Pooja Kapur, Joint Secretary, Ministry of External Affairs, India, noted India's geographic proximity to ASEAN as the Dialogue Partner with shared borders and suggested that countries should collaborate based upon their individual strengths, noting that India as strong in digital innovation, PPPs and smart urbanisation.
Ambassador Kazuo Sunaga, Ambassador of Japan to ASEAN, stressed the need to coordinate between ministries and at the ASEAN level. He noted that Japan formed a taskforce on ASEAN connectivity immediately after MPAC was adopted in 2010 and has worked on many connectivity projects in the region. Ambassador Su Jeong-in, Ambassador of the Republic of Korea to ASEAN hailed the MPAC as a milestone towards achieving ASEAN and noted that Korea's strengths are digital innovation, logistics, and people mobility.
Several Ambassadors called for an inventory or mapping of all connectivity projects as well as a communications plan for MPAC.
Session four focused on 'Optimising Engagement with Stakeholders' and included panel members from finance and the private sector. Panellists spoke very highly of the quality of MPAC 2, calling it 'one of the best policy documents to emerge from ASEAN.' They noted that ASEAN is a huge potential market but that projects need to be presented in a manner that clearly shows the value add with a view towards efficiency and value for money. Risk allocation needs to be addressed through upfront planning and projects must be designed for a whole life-cycle. One of the key challenges going forward will be finding the political will to support implementation of MPAC.
Session five addressed 'Opportunities for Delivering MPAC 2025: Good Practices and Lessons Learnt.' The panel was moderated by Professor Dr Fukunari Kimura, Chief Economist of ERIA, and included representatives from international organisations including the World Bank, the Asia Development Bank, the US-ASEAN Connect Centre, and ERIA. Dr Fauziah Zen, an ERIA Economist, remarked that there were both internal and external challenges facing implementation of MPAC 2025 but that ERIA and other international organisations will support governments to address these issues.
Ambassador Keomany gave the closing remarks, emphasising the need for immediate follow-up, noting the strong support from partners as well as the need to clarify roles moving forward, develop a pipeline of marketable projects and create a clear communications plan to socialise the MPAC to all stakeholders.
CHOOSE FILTER