ERIA Hosted the Launch of the Hinrich Foundation Sustainable Trade Index 2018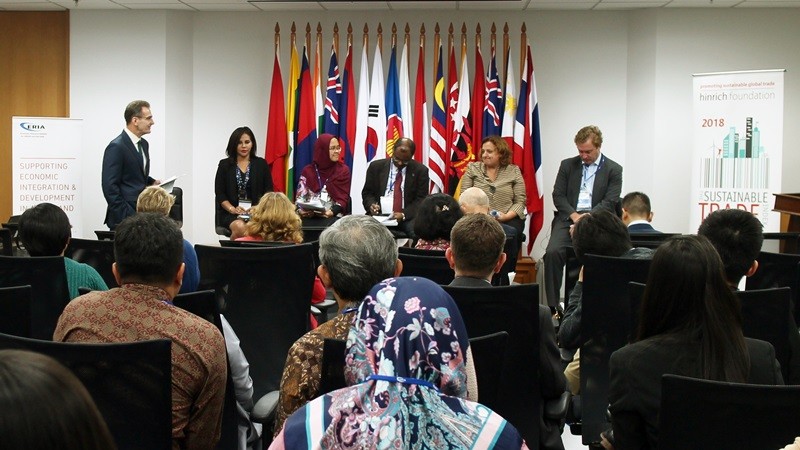 Jakarta, 11 July 2018: The Hinrich Foundation released the key findings from the second edition of its Sustainable Trade Index at an event hosted by the Economic Research Institute for ASEAN and East Asia (ERIA) in Jakarta on 11 July.
The Sustainable Trade Index was devised by the Economist Intelligence Unit (EIU), commissioned by the Hinrich Foundation. The team evaluated 19 Asian countries and the United States on their aptitude to trade in the international system. Representatives from the International Finance Corporation (IFC), the ASEAN Secretariat, and ERIA, as well as other senior economists and representatives from the Indonesian government, media, and private sector, attended the launch and participated in a discussion on global sustainable trade.
The Sustainable Trade Index findings are extremely important, given escalating tensions on the international trade scene and changing trends on foreign investment. The Index finds that Asian countries, particularly the richer ones, are regressing in terms of their trade sustainability on three pillars – social, environmental, and economic. While the overall performance of most countries declined, small gains were made on different indicators. For example, Indonesia ranked 14th – the same as in the 2016 index – but made gains on the social pillar.
The opening remarks were delivered by Prof Hidetoshi Nishimura, President of ERIA, and Mr Merle Hinrich, Founder and Chairman of the Hinrich Foundation. Mr Chris Clague (Managing Editor, Thought Leadership, Asia, and Global Editorial Lead, Trade and Globalization for the Economist Intelligence Unit), who led the research team from EIU, presented the main findings of the Sustainable Trade Index and later participated in the panel discussion on sustainable trade. The discussion was moderated by Mr Stephen Olson, Research Fellow at the Hinrich Foundation, and featured Dr Ahman Zafarullah, Senior Economist at ASEAN Secretariat; Ms Daria Taglioni, Principal Economist at the IFC; Dr Venkatachalam Anbumozhi, Senior Energy Economist at ERIA; and Ms Aida Greenbury, Director/Sustainability Advisor, Mitra Puri Hijau, Greenbury & Associates.
The event was proudly hosted by ERIA as part of the activities organised by the Government of Indonesia, the IMF, and the World Bank Group as the groundwork for the IMF-World Bank Group Annual Meetings which will be held in Bali in October 2018. ERIA hopes to host more productive conversations like this one in the future and welcomes further discussion on the important topic of trade sustainability.
To see the results of the 2018 Edition of the Sustainable Trade Index, visit the Hinrich Foundation website at http://hinrichfoundation.com/trade-research/sustainable-trade-index/
Image Gallery
CHOOSE FILTER