ERIA Holds 'Why Think Tank Matters' Discussion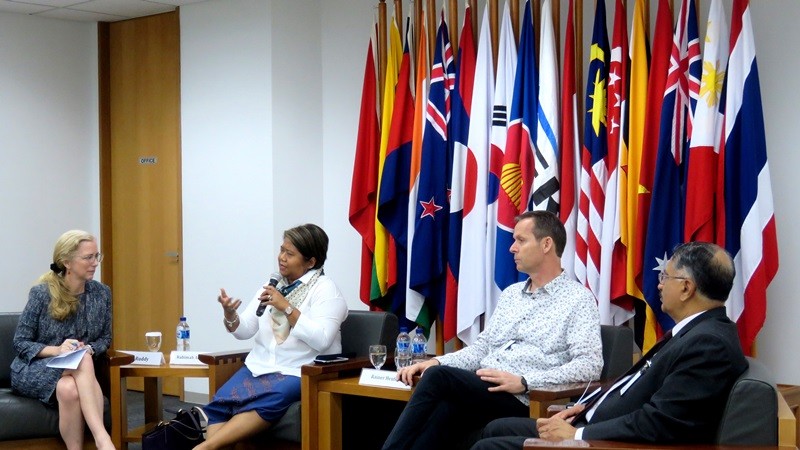 Jakarta, 26 January 2018: Think tanks play an important role in shaping public policy around the world, said Izuru Kobayashi, the Chief Operating Officer of ERIA, in his opening remarks for the discussion 'Why Think Tanks Matter More Than Ever'.
The event, held by ERIA in its Jakarta office, was part of Why Think Tanks Matter Events held by more than 160 organisations worldwide in more than 100 cities in anticipation of the launch of this year's Global Go To Think Tank Index (GGTTI) launch. The GGTTI is organised by the Think Tanks and Civil Societies Program (TTCSP) at the University of Pennsylvania to acknowledge the important contributions of think tanks worldwide.
Lydia Ruddy, ERIA's Director of Communications, acted as the host and moderator of the discussion. The panellists include Rahimah Abdulrahim, the Executive Director of Habibie Center; Rainer Heufers, the Executive Director of the Centre for Indonesian Policy Studies (CIPS); and Dr Krishnamurthy Ramanathan of Sydney Graduate School of Management, Western Sydney University and Former Director of the United Nations ESCAP Asian and Pacific Centre for Transfer of Technology.
Abdulrahim kick-started the discussion by saying that 'think tank bridges the gap between academics and stakeholders.' She then explained how think tanks and their capabilities to reach stakeholders such as policymakers and the public would be able to help create studies that benefit people.
Rainer Heufers, who founded CIPS, added into the topic by elaborating the importance of think tank now with the rise of populism because without think tanks that inform people, populism can be used for personal agenda of some groups. 'We try to break issues down to the things that matters to people,' he said. Using CIPS as an example, he stated that think thank can even do more, 'We are research-based advocacy group, as we work to inform the public and make a change.'
Discussing the use of technology in policy and the society, Dr Ramanathan said that with the technological advancement today, technological issues and challenges came along that created another gap in the current world. He stated that think tanks could fill in and help policymakers understand the implication of the situations.
As the discussion widened into realm of technological advancement, Rainer Heufers touched upon the importance of using social media for think tanks. 'Do you really need social media? Yes, but what do you get from that? Does it make a difference? Sometimes being printed in Kompas is more important,' said Heufers, referring to Indonesia's largest daily newspaper.
Ima Abdulrahim stated that in emerging economies, social media can bridge the society and policymakers. 'In Indonesia (the use of social media) is important, because there is a big gap between politicians and the members of their constituents... I think, think tanks may end up having to fill that gap,' said Abdulrahim. Dr Ramanathan then added on how social media is also important to think tanks as it enable think tanks to have a wider reach.
This last part of the discussion prompted a question from the audience which questioned the panellist on how to reach the younger generations who, as mentioned by Dr Ramanathan, mostly have a 'data driven instant gratification mentality.' Using the Talking ASEAN series from Habibie Center as an example, Rahimah Abdulrahim answered, 'When we do our events, we keep them open, we encourage university and high school students to join.'
Heufers shared his organisation's experience working with the young generation. 'You need to develop this content for the youth, but we are not at that age group anymore,' he said, adding that they conduct several focus group discussions with the youth in order to get their insights when developing an online course about faith for the young generation.
ERIA was recognised as one of the best regional studies centres in the world and improved its ranking in several categories of the 2016 GGTTI. In the last five years, ERIA has managed to continuously improve its rankings and recognition in more categories.
Image Gallery
Related Articles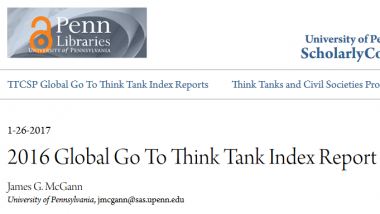 CHOOSE FILTER