ERIA Holds 14th Academic Advisory Council (AAC) Meeting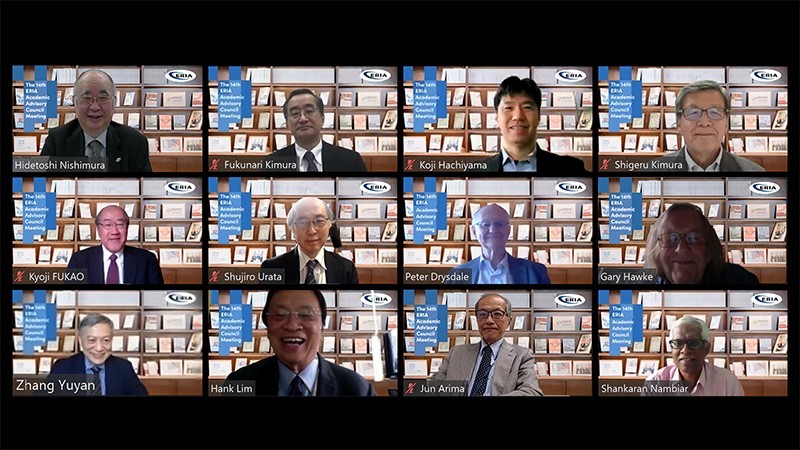 Jakarta, 21 April 2022: The Russian Federation invasion of Ukraine, Cambodia's chairmanship of ASEAN, and energy transition affordability, amongst others, were the subjects of discussions during the 14th Academic Advisory Council (AAC) meeting held on 21 April 2022. Due to travel restrictions caused by the COVID-19 pandemic, the meeting, hosted by the Economic Research Institute for ASEAN and East Asia (ERIA) was, for the third time, held virtually.
AAC is composed of internationally renowned scholars and experts from universities, research institutions, the private sector, international organisations, and non-governmental organisations belonging to the East Asia Summit countries, who provide advice and support to ERIA on its annual work programme, research outcomes, and performance of researchers.
The meeting was attended by AAC Chairperson Dr Hank Lim, senior research fellow of the Singapore Institute of International Affairs, who moderated the meeting; Emeritus Professor of Economics Prof Peter Drysdale, head of the East Asian Bureau of the Economic Research and East Asia Forum, Crawford School of Economics and Government, Australian National University; Prof Gary Hawke, emeritus professor of Victoria University of Wellington and associate senior fellow of New Zealand Institute of Economic Research; Prof Kyoji Fukao, president of the Institute of Developing Economies, Japan External Trade Organization; Prof Zhang Yuyan, director and senior fellow of the Institute of World Economics and Politics, Chinese Academy of Social Sciences; and Dr Shankaran Nambiar, senior research fellow and head of Policy Studies Division of the Malaysian Institute of Economic Research.
ERIA President Hidetoshi Nishimura called attention to the Russian Federation invasion of Ukraine, which has brought an unprecedented surge in energy and commodities prices while pulling down stock markets. He cited how the current economic sanctions imposed on the Russian Federation has pushed changes in supply chains and led to uncertainties that are felt in the ASEAN region. Prof Nishimura emphasized that the time is right for ASEAN to develop a comprehensive vision to deal with such circumstances. He added that ERIA has been preparing the Comprehensive Asia Development Plan 3.0 as a key deliverable for this year's ASEAN and East Asia Summit (EAS). The policy implications of the deliverable, he said, will be significant in furthering the development of the ASEAN and East Asia region. Prof Nishimura added that ERIA has fully supported Cambodia's chairmanship of ASEAN and Indonesia's Group of Twenty (G20) presidency.
ERIA Chief Operating Officer Mr Koji Hachiyama noted that in support of Cambodia's chairmanship of ASEAN, ERIA has signed a memorandum of understanding (MOU) with Cambodia's minister of education, youth, and sports in support of the ASEAN Social and Cultural Community, which will focus on several priority economic deliverables as grouped into four strategic trajectories. Similarly, ERIA is committed to support Indonesia's G20 presidency. In March 2022, ERIA attended several G20 events. On Think Twenty (T20), an MOU amongst ERIA, Center for Strategic and International Studies, University of Indonesia, and 2 Task Force has also been signed.
ERIA's Chief Economist Prof Fukunari Kimura emphasised that ERIA continues to utilise international division of labour, international trade, and globalising forces for effective economic development. On energy, ERIA's Senior Policy Fellow for Energy and Environment Prof Arima reported that the cost of switching from coal to natural gas is being estimated in many ASEAN countries, and that energy transition affordability will become significantly more crucial.
ERIA's Senior Communications Advisor Mr Kavi Chongkittavorn provided an update of ASEAN's vision beyond 2025 to 2035. One of the most discussed topics in the meeting was whether ASEAN should leave the moratorium on dialogue partner. Participants discussed bridging the development gap and how ASEAN could maintain sustainable development and increase awareness about it.
The council members spoke highly of ERIA's research activities as the solid foundation supporting policy development in the ASEAN region. Prof Drysdale emphasised the importance of the economic and geopolitical strategy to ensure openness to regional and global economic engagement. He added that it is important to communicate the issue of security and sustainability because of its geopolitical importance. He noted that ASEAN is not only a passive partner but also a partner that can help find solutions to problems. Prof Hawke appreciated the realistic and ambitious work that ERIA has conducted, especially on energy. He stressed the importance of the ASEAN Secretariat in regional growth and geostrategic discussions that encompass ASEAN and Indo-Pacific.
In closing, Dr Hank Lim highlighted the Statement of the 14th Governing Board Meeting of ERIA, which covers the importance of supply chain resilience amidst the ongoing COVID-19 pandemic, establishing a principal and comprehensive circular economy under a post-COVID-19 pandemic scenario, and ERIA's current activities.
Related Articles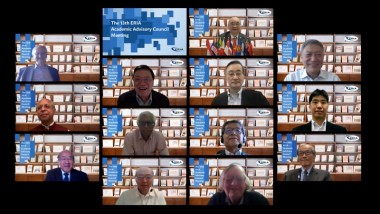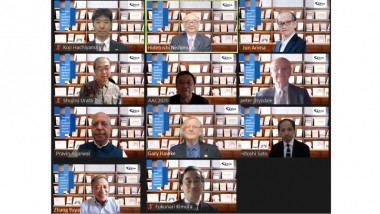 CHOOSE FILTER