ERIA Co-organises Workshop on Strengthening Stakeholders Cooperation in Promoting Active Ageing and Mental Health in ASEAN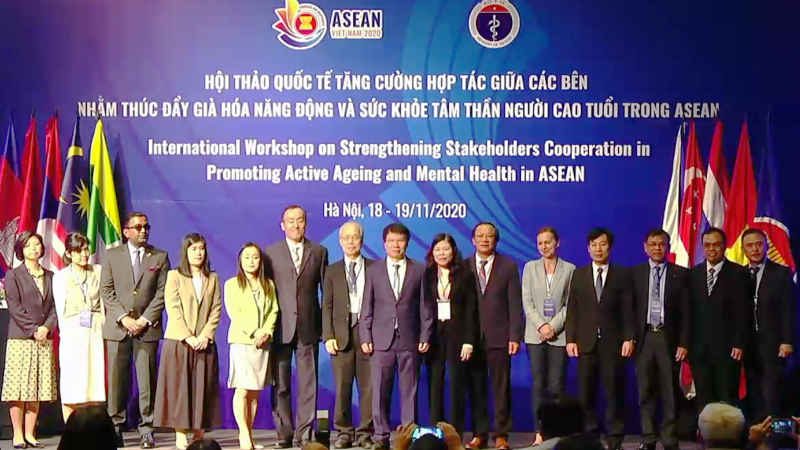 Ha Noi, 18-19 November 2020: The 'International Workshop on Strengthening Stakeholders Cooperation in Promoting Active Ageing and Mental Health in ASEAN' was held virtually (physically for Vietnamese participants), co-organized by ERIA, WHO, UNFPA, and the General Office for Population and Family Planning (GOPFP), the Ministry of Health (MOH) of Viet Nam.
The workshop was held over two days with six sessions to promote policy dialogue on ageing populations and mental health among ASEAN member States and stakeholders during the commemorative year of Viet Nam's Chairmanship of ASEAN. The workshop aimed to (1) provide an overview of population ageing in the ASEAN community, (2) share experiences in raising awareness of population ageing issues, and (3) offer policy recommendations for ASEAN on strengthening cooperation among stakeholders.
The workshop was attended by wide range of stakeholders, e.g. government ministries from ten ASEAN member States, international organisations, research institutes, healthcare professionals, and civil society organisations. Dr Truong Quoc Cuong, Deputy Minister of Health of Viet Nam, also attended the event and delivered his opening speech, followed by the opening speech of Dr.Takeshi Kasai, the Regional Director for the Western Pacific of the World Health Organization.
In his opening remarks, Prof Yasuhiro Yamada, Special Assistant to the President on CLMV Issues of ERIA, congratulated the success of the ASEAN Summit hosted by Viet Nam, and provided a brief introduction of ERIA. He explained that population ageing is one of ERIA's research fields as the topic is related to ERIA's three pillars of research activities and referring to the 2015 Kuala Lumpur Declaration on Ageing recognized by ASEAN Member States to promote healthy, active, and productive ageing. He announced that the baseline report of the Longitudinal Study of Ageing and Health (LSAHV) will be published soon. This study is an ongoing project in Viet Nam, sponsored by ERIA using contributions from the Government of Japan related to its Asia and Wellbeing Initiative. Prof Yamada expressed his hope that the study could contribute to policy making for population ageing in Viet Nam. He also expected the workshop to be an excellent opportunity to promote healthy, active, and productive ageing, and to induce cooperation among stakeholders.
As the last speaker of the opening session, Dr Osuke Komazawa, Special Advisor on Healthcare and Long-Term Care Policy of ERIA, presented the study design and some of the key findings of LSAHV, and compared them with the LSAHP which is being conducted in the Philippines. Among the findings he showed, there were remarkable differences between the countries, such as the number of remaining original teeth, ownership of cell phones, male caregivers, etc. He emphasized that further analyses and studies would be required to detect the factors contributing to health expectancy, so the second-round survey, scheduled in 2021, is critically important, and continued support of stakeholders would be greatly appreciated.
In Session Three, which focused on mental health, Dr Vu Cong Nguyen, Deputy Director of the Institute of Population, Health, and Development, also reported some key findings of LSAHV and LSAHP. He highlighted some issues related to mental health including depression, dementia, drinking, smoking, sleep, etc. In LSAHV and LSAHP, depression is assessed with CES-D (Center for Epidemiologic Studies Depression Scale). SPMSQ (Short Portable Mental Status Questionnaire) was used as the test for dementia. Though both tests have yet to be validated in Viet Nam, the results suggest that the older respondents have more symptoms of depression and dementia.
At the final session on the second day, following the keynote speech by Prof Asghar Zaidi of the Government College University, Lahore, Pakistan, a panel discussion was held, attended by experts from GOPFP, the Vietnam Association of the Elderly, UNFPA, WHO, Japan International Cooperation Agency, and Deloitte Asia Pacific. A wide range of topics were discussed, such as family- or community-based care, the lessons from Japan as a super-aged country, the role of the private sector to establish care systems, the cooperation between the government and the private sector, the relationship between public health and long-term care systems, the importance of reliable data, etc. The closing remarks were delivered by Dr Nguyen Doan Tu, the Director-General of GOPFP. After the conference, some participants joined a field trip to a long-term care facility in Ha Noi.
Related Articles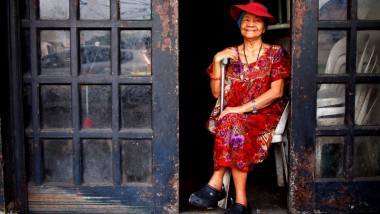 CHOOSE FILTER