ERIA Co-organises Workshop on Food Security and Digital Technology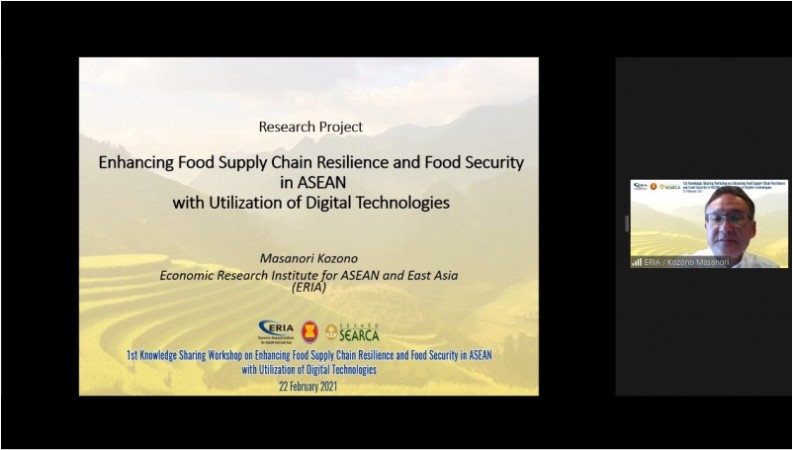 Jakarta, 22 February 2021: The 1st Knowledge Sharing Workshop under ERIA's research project on 'Enhancing Food Supply Chain Resilience and Food Security in ASEAN with Utilization of Digital Technologies' was jointly organised by the ASEAN Secretariat, the Southeast Asian Regional Center for Graduate Study and Research in Agriculture (SEARCA), and ERIA on 22 February 2021. The workshop was attended by delegates from ten ASEAN Member States representing ASEAN agriculture-related sectoral working groups. Representatives from academia and the private sector participated as resource persons.
In his welcome remarks, Dr Pham Quang Minh, Head of Food, Agriculture and Forestry Division, ASEAN Secretariat stressed the importance of developing the ASEAN Guidelines for Accelerating Transformation of Food and Agriculture through Digital Technologies and Innovations. Mr Masanori Kozono and Dr Venkatachalam Anbumozhi of ERIA presented details of the project that aims to estimate the impact of Covid19 on agricultural production and food value chain resilience in ASEAN (Component 1), analyse the potential of digital technologies in increasing agricultural productivity and resilience of ASEAN food value chains (Component 2), and support the development of the ASEAN Guidelines (Component 3).
In the plenary session, study group members in Component 1 and 2 of the project shared their findings. Firstly, the Nanyang Technological University, Singapore, stressed the importance of agricultural digitalisation which benefits farmers by increasing their productivity and profitability, providing information on the types of products consumers want, and allowing farmers to market directly to consumers. Also, the University described intra- and inter-AMS digitalisation disparities in ASEAN, and proposed recommendations to improve the readiness of ASEAN for digitalisation of agriculture through encouraging e-commerce services, country-level plans in mapping 'first-to-last' mile travel routes, and providing support to farmers through entrepreneurial education, receiving mobile payments and information on current e-commerce platforms.
The University of Wisconsin, USA, the University of Technology Wien, Austria and the University of Tokyo, Japan informed the workshop about the digital technologies applied to agricultural production and food supply chains as well as the government initiatives in the USA, EU, and Japan, respectively. Digital agricultural technologies including agricultural robotics, agricultural decision support systems, precision farming with sensors, unmanned aerial vehicles, GPS assisted and robot tractors, automatic combine harvester with yield and taste sensor, trading platforms for agricultural commodities, etc. were introduced to the workshop. These technologies are worth considering for AMS in responding to Covid19 because they can reduce interaction among workers thereby enabling social distancing.
In addition, the University of Missouri, USA and the International Food Policy Research Institute (IFPRI) presented on Digital Agricultural and Structural Economic Modeling: COVID-19 Scenario Analysis, which leverage Big Data and Cloud Technology in agriculture to develop an economic model and aid policymakers to take appropriate decisions. The model indicated that supply chain disruption in less developed countries is more than in developed countries in the region.
From the private sector perspective on the use of digital technologies, Feedmix Specialist Incorporated, Grow Asia, and the Asia Pacific Rural and Agricultural Credit Association (APRACA) shared their experiences and observations. Feedmix Specialist Incorporated, Philippines introduced the application of digital technologies in the aquaculture sector. Grow Asia highlighted digital technologies from smallholder agriculture and the food value chain. APRACA focused on digital financial services to support the supply chain in ASEAN.
During the group work session, participants were separated into groups to discuss perceptions of digital technology, national programmes and platforms on digital agriculture, and the support needed to further adapt digital technologies. The outcome of the group discussions will be utilised as inputs to develop the ASEAN Guideline.
The 2nd Knowledge Sharing Workshop will be organised to discuss the draft ASEAN Guideline in due course.
Image Gallery
Related Articles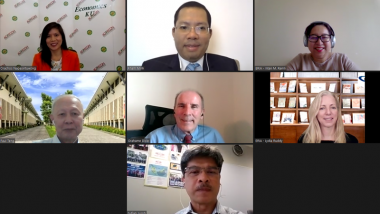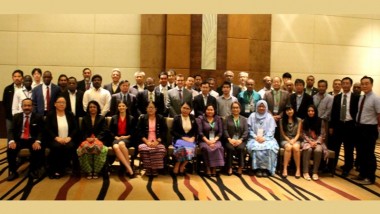 CHOOSE FILTER