ERIA Co-host the 7th International Conference for Universal Design 2019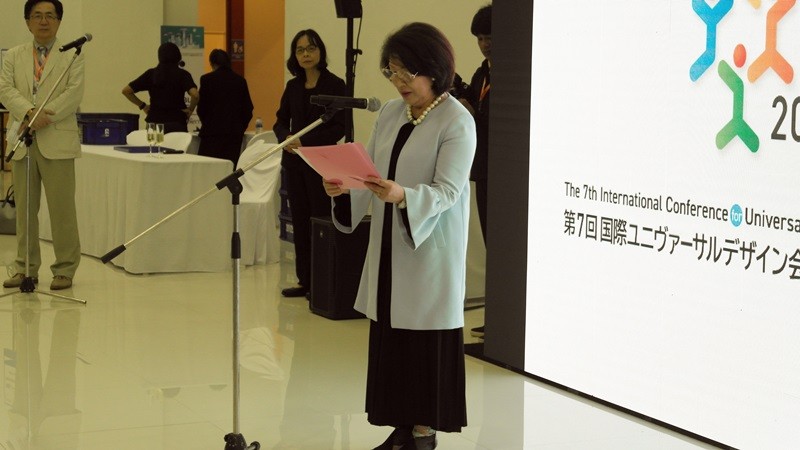 Bangkok, 4-6 March 2019: The Economic Research Institute for ASEAN and East Asia (ERIA), in partnership with International Association for Universal Design (IAUD) and King Mongkut Institute of Technology Ladkrabang (KMITL) Thailand, co-hosted the 7th International Conference for Universal Design in Bangkok, 4-6 March 2019.
This year's conference was the first that was held outside of Japan for the first time after 16 years and six series of this conference were held in several cities around Japan. With the theme 'Toward Sustainable Development through Universal Design', this conference was mostly attended by academics and people who are engaged in various organisations and institutions in charge of universal design from Asia, America, and Europe.
On the first day, a video message from the Prime Minister of Japan H.E. Shinzo Abe officially started the opening ceremony, following the remarks by the Privy Councilor of King Vajiralongkorn and the former Prime Minister of Thailand H.E. Surayud Chulanont.
In his video message, Prime Minister Abe expressed his heartfelt respect to people who are making valuable efforts on a daily basis to create society in which the humanity of every individuals is respected and all people can live comfortably, including the elderly, people with disabilities, and people from other nations with different languages and daily customs.
'Next year, Japan will take the opportunity to hold 2020 Tokyo Olympic and Paralympic Games, to achieve a cohesive society in which all people can participate. Japan will promote town planning aligned with universal design principles, create a world-leading barrier-free society,' he added. He hoped that all participants can engage in meaningful dialogues and mutual exchanges towards the shared goals of realising a sustainable universal society.
Special Advisor to the President of ERIA, Prof Akiko Yamanaka attended this event as a member of the organising committee. In her opening remarks, Prof Yamanaka invited the audience to work together for a more stable and peaceful work.
Another welcome speech came from the President of King Mongkut's Institute of Technology Ladkrabang (KMITL). On behalf of KMITL, Mr Suchatvee Suwansawat said that this conference was held to celebrate the solidarity of universal design work and to maintain that strength for collective development in creating inclusive society. With continuance of the collaboration among the stakeholders, it could eliminate inequality and leave no one behind in the age of distraction.
After the opening ceremony, Prof Yamanaka delivered keynote speech at the open symposium session. Prof Yamanaka talked about Social Resilience: From Humans to Infrastructure. She highlighted her presentation in some points related to Diplomacy, Natural Disaster, Human Development, UN Conference for Women, and World Peace.
'Natural and human-induced disaster prevention should be based on the same principles as preventive diplomacy,' said Prof Yamanaka, while also mentioning a Japanese saying 'be prepared and you will have no regret.' Talking about the relationship between disaster and infrastructure, she said, 'to mitigate disaster, infrastructure will be needed by human, but it should be reviewed based on its function and purpose. Moreover, infrastructure should be designed to serve many purposes based on development plans of communities, villages, town, and cities, supported by adequate budget from Government.' In the last part of her presentation, Prof Yamanaka emphasised that people can make a difference in their lives, regardless of their race, religion, or nationality, by providing education, lifelines, and infrastructure support.
On the second day of this conference, Senior Advisor for the President of ERIA for Healthcare and Long-term Care Policy, Dr Osuke Komazawa presented a topic about Universal Design related to Aged Society 1 entitled Population Aging, Sustainable Development Goals, and Asia Health Wellbeing Initiative. During his presentation, Dr Komazawa talked about 2030 Agenda for Sustainable Development which factors of SDGs could have an impact to population ageing in the future. He underlined the fact that population ageing must be seen as a chance for humanity, as well as a challenge. In preparing and achieving an active ageing, research and practice will be required.
Moreover, Dr Komazawa also showed the condition of older persons living their old age in several countries, such as the Philippines, Indonesia, and Japan and situations at some public and private nursing homes in those mentioned countries as well. In the last part of his presentation, Dr Komazawa shared information about Asia Health Wellbeing Initiative (AHWIN) which was launched by the Government of Japan in 2016, to promote regional cooperation that fosters sustainable and self-reliant healthcare systems in Asia. Since 2017, ERIA, under the Healthcare Unit, has conducted some research projects on population ageing in response to the launch of AHWIN. 'Population ageing is really the success of the humanity. We have the responsibility to find the way to reap the dividend of extra years of lives,' said Dr Komazawa in closing.
At the closing ceremony on the third day of the conference, the Chair of Executive Committee of IAUD Mr Satoshi Kose read the Conference Declaration. One point of the Declaration stated that the conference will expand new links and networks in Asian countries and with other parts of the world, as well as lead people to richer dialogues to create societies for all based on celebrating human diversity. The working sessions showed that Universal Design has a fundamental role to play in achieving the UN Sustainable Development Goals for 2030.
CHOOSE FILTER