ERIA Attends the 15th International Energy Forum in Algeria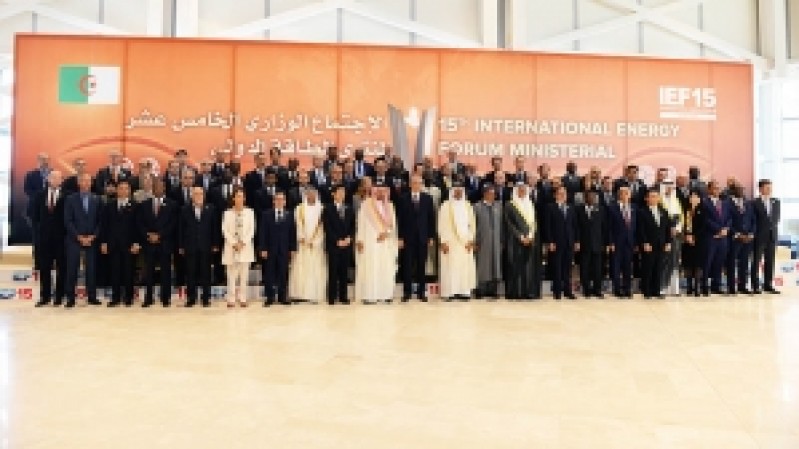 A delegation from the Economic Research Institute for ASEAN and East Asia (ERIA) attended the 15th International Energy Forum 'Global Energy Transition: An Enhanced Role for Energy Dialogue' in Algiers, Algeria, that was held on 26-28 September 2016.
The delegation consisted of ERIA's President Professor Hidetoshi Nishimura, Special Advisor to the President on Energy Affairs Shigeru Kimura, and Managing Director for Research Affairs Shigeki Kamiyama.
Prof Nishimura delivered his remarks in Plenary Session 3 'Renewables and Energy Efficiency: Prospects and Challenges after COP 21' presenting one of ERIA's recent key reports Energy Outlook and Energy Saving Potential in East Asia 2016.
The Energy Outlook examines Business as Usual (BaU) and Alternative Policy Scenarios (APS), where 'according to the ERIA Outlook, energy efficiency policies could improve energy intensity of APS about 45 percent from 2013 to 2040. But CO2 emissions might increase 30 percent at the same time. Consequently ERIA requests EAS countries to increase more low carbon energy such as nuclear and renewable energy,' said Professor Nishimura, adding that ERIA appreciates the International Renewable Energy Agency's (IRENA) strenuous efforts to increase renewable energy in East Asia.
The delegation also attended several bilateral meetings with:
Dr S. M. Hossein Adeli, Secretary General of Gas Exporting Countries Forum
Dr Sun Xiansheng, Secretary-General of International Energy Forum
Mohammad Sanusi Barkindo, Secretary General of Organization of the Petroleum Exporting Countries
H. E. Yosuke Takagi, Deputy Minister of Economic, Trade and Industry, Japan
Image Gallery
CHOOSE FILTER