ERIA and IDE JETRO Co-organise Working Session on Technology Transfer and Trade at WTO Public Forum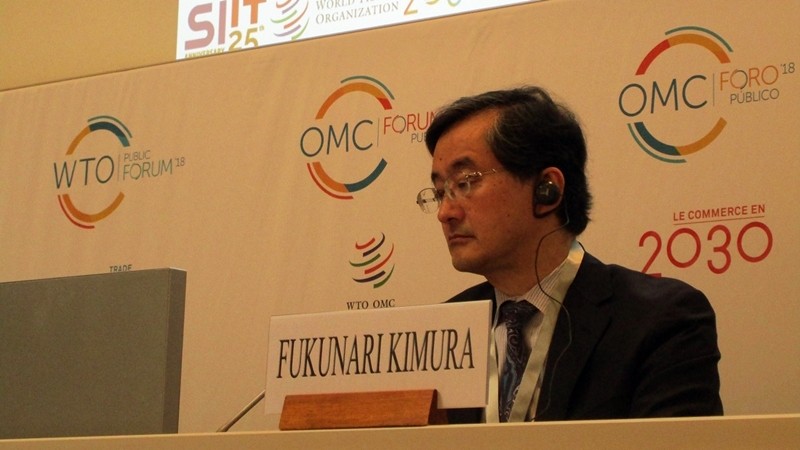 Geneva, 4 October 2018: The Economic Research Institute for ASEAN and East Asia (ERIA) and the Institute of Developing Economies, Japan External Trade Organization (IDE-JETRO) co-organised a working session on the sidelines of the WTO Public Forum in Geneva on 4 October 2018.

ERIA's Chief Economist Prof Fukunari Kimura was one of the panellists in the working session, entitled 'Who Should Control Technology Transfer for Trade and Economic Growth?: Global Economic Integration and Industrial Policy in Emerging Asia'. The session was moderated by Dr Yasushi Ueki, Senior Research Fellow from IDE-JETRO.

The other panellists were Ram Upendra Das, Head & Professor, Centre for Regional Trade (CRT), Centre for Research on International Trade (CRIT), Department of Commerce, Ministry of Commerce and Industry, Government of India; Chawalit Jeenanunta, Associate Professor, Assistant Director for Building, Ground, and Properties, Sirindhorn International Institute of Technology, Thammasat University; and Tomohiro Machikita, Associate Senior Research Fellow, Institute of Developing Economies, Japan External Trade Organization (IDE-JETRO).

Prof Kimura delivered his presentation on the international division of labour, particularly about forms of technology acquirement in developing countries. He drew upon Richard Baldwin's concept of unbundlings in discussing the development of division of labour.

'In terms of the international division of labour in the manufacturing sector, and particularly the machinery industries, East Asia has led the so-called second unbundling where they have production-process-wise, or task-wise, international division of labour,' said Prof Kimura, adding that 'eventually we will have cross-border service division of labour,' also known as the third unbundling.

He went on to talk about technology transfer and spillover, noting that there have been cases of 'forced' technology transfer in which companies are imitating or stealing technologies, and there are intentional technology transfers through transactions between foreign and local firms. 'IDE-JETRO and ERIA have conducted micro studies on this continuously and found that foreign firms tend to have strong incentives for doing intentional technology transfer,' he said.
Even though some foreign firms have incentives for improving the productivity of upstream local firms, some other firms may not want local firms to create product innovation. Furthermore, Prof Kimura warned of potential issues related to international technology transfer and digital economy, especially in international rule-making.

'The issues in the digital economy include the values of data and program codes and how to discipline the government's interventions. While there are clauses on forced program code disclosure in cyber security laws in some countries, the CPTPP and Japan-EU EPA have ban forced disclosure of program codes. And to achieve "free flow of data", we need a series of back-up policies that would cover consumer protection, privacy, IPR, competition policies, taxation, culture and cyber-security. These are the policy environment we have to think about in the digital economy,' said Prof Kimura.
Image Gallery
CHOOSE FILTER