ERIA and Cambodia Ministry of Mines and Energy Launch Cambodia National Energy Statistics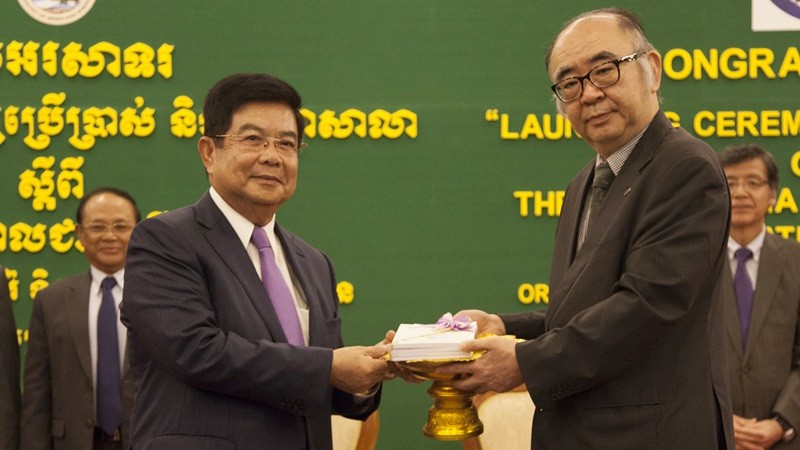 The Economic Research Institute for ASEAN and East Asia (ERIA) supported the Ministry of Mines and Energy (MME) of Cambodia to conduct a series of data collection and analysis in order to produce Cambodia's first set of comprehensive energy statistics.
The result of the collaboration is a report entitled Cambodia National Energy Statistics 2016, which was launched on 10 October 2016 at the Cambodiana Hotel in Phnom Penh, the capital city of Cambodia.
ERIA's President Professor Hidetoshi Nishimura officially handed over the report to the Minister of the Mines and Energy His Excellency Suy Sem. Prof Nishimura then delivered his opening remarks, in which he stated that this fruitful achievement reflected the result of years of cooperation between ERIA and the Cambodian government since the country first hosted the Sixth East Asia Summit Energy Ministers Meeting (EAS EMM) held on 12 September 2012 in Phnom Penh.
'ERIA is strongly convinced, the improvement of the Cambodia Energy Data and Statistics will not only serve Cambodia's policy purpose, but will enhance regional energy cooperation with other ASEAN member countries, and other regional and international bodies such as the ASEAN Centre for Energy (ACE) and the International Energy Agency (IEA) that require data from time to time for policy and analyses,' said Prof Nishimura.
Meanwhile, His Excellency Suy Sem stated that the Ministry was very grateful of ERIA's swift response to the Ministry's request as well as the organisation's support in strengthening Cambodia's institutional and human capacity to overcome insufficient data and information for energy policy planning.
'An emerging country like Cambodia will need ERIA's continuous support to catch up to the speed of economic development through appropriate policy and planning,' said His Excellency Suy Sem, adding that the data and statistics would guide the Ministry in responding to the growing energy demands in all sectors in Cambodia.
A press conference was held after the Minister delivered his remarks, in which local journalists listened to the Ministry's plan to utilise the Cambodia National Energy Statistics for public uses.
Afterwards, a workshop regarding the findings in the Cambodia National Energy Statistics ensued. The first speaker, Director General Cheap Sour of the General Department of Petroleum at MME spoke briefly about petroleum data in Cambodia. The second speaker, Director General Victor Jona of the General Department of Energy at MME delivered a presentation regarding electricity and renewable energy data in Cambodia. The last speaker was ERIA's Special Adviser to the President on Energy Affairs, Shigeru Kimura, who presented an analysis of energy demand supply in Cambodia.
With a set of comprehensive energy statistics, Cambodia will be able to contribute more to ASEAN and share their data with ASEAN Secretariat as well as other member states, IEA, Joint Organisation Data Initiatives (JODI), and various international fora. In order to ensure the sustainability and continuity of this project, Cambodia plans to establish a systematic collection of energy data from various energy supply companies and other government agencies/corporations.
Image Gallery
Related Articles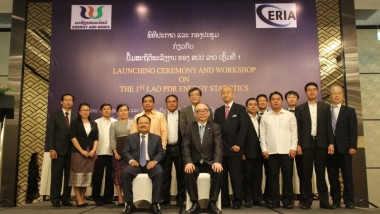 CHOOSE FILTER