ERIA Afternoon Tea Lecture by Dr. Mitsuo Nakamura and Prof. Hisako Nakamura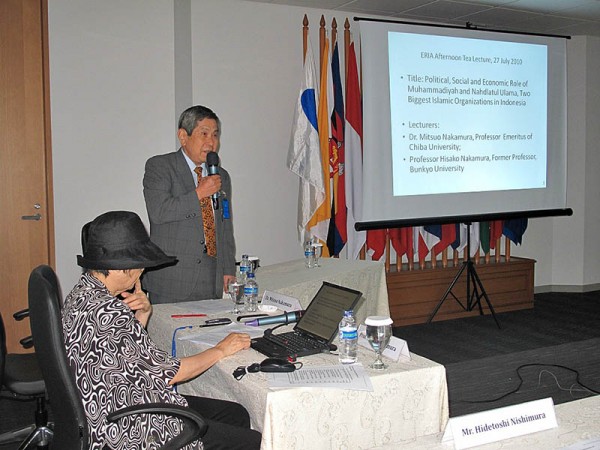 ERIA held the Afternoon Tea Lecture on 27 July 2010 at ERIA Annex Office. Lecturers were Dr. Mitsuo Nakamura, Professor Emeritus of Chiba University, and Professor Hisako Nakamura, Former Professor, Bunkyo University. The theme was "Political, Social and Economic Role of Muhammadiyah and Nahdlatul Ulama (NU), Two Biggest Islamic Organizations in Indonesia".
Over 40 participants from Japanese company and other institutes located in Jakarta as well as ERIA officials and researchers were there.
Dr. Mitsuo Nakamura and Prof. Hisako Nakamura have been observing the two largest Islamic organizations, Muhammadiyah and Nahdlatul Ulama. (In case of Muhammadiyah, they have started a local study 40 years ago in 1970.) It's well known that the fourth President of the Republic of Indonesia, Abdurrahman Wahid, was a former chairman of NU.
According to Dr. Mitsuo Nakamura, almost one thirds of the entire Indonesian population of 230 million are members or followers of either of the two organizations. He took some examples that NU is contrasting to Muhammadiyah in terms of historical background, organizational structure, people's life style, religious practice, and so on. He also mentioned about the recent developments and prospects for their future direction. In the conclusion, he said "Both are positively involved in the promotion of world peace with other faiths. Such cooperation should be further promoted to enhance people to people cooperation and solidarity among ASEAN and East Asian countries", he added, "we hope that our presentation this afternoon has been of any interest and of any use for you to start approaching them from your side".
After their lecture, a lively Q&A session was conducted. The participants enhanced and widened their knowledge on this two biggest Islamic organizations in Indonesia.
CHOOSE FILTER