Data and Research Pivotal to Effectively Respond to Challenges of Care for Older People in Indonesia during the COVID-19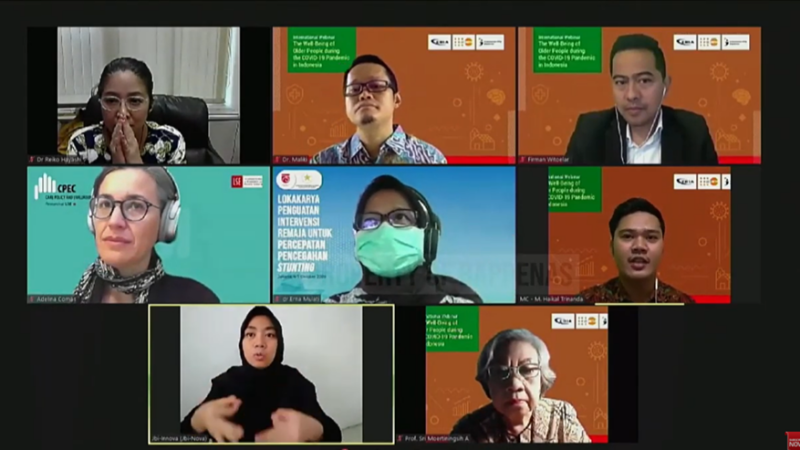 Jakarta, 7 October 2020: The world is deep into the pandemic, and Indonesia has a nationwide tally exceeding 300,000 COVID-19 cases. The World Health Organization estimates that older people make up 40.2% of Indonesia's COVID-19 fatalities. It suggests the significant impact of the pandemic on older people.
The Economic Research Institute for ASEAN and East Asia (ERIA) co-organized a webinar together with Indonesia's Ministry of National Development Planning (Bappenas) and the United Nations Population Fund on October 7th, 2020. This is the second webinar in the Bappenas's webinar series commemorating the International Day of Older Persons, entitled "The Wellbeing of Older People during the COVID-19 Pandemic in Indonesia: Early Analysis of SILANI Phone Survey".
The event was also a follow-up to the series of workshops hosted by Bappenas, UNFPA, and the Asian Development Bank from late last year to earlier this year, which discussed long-term care system favorable to Indonesian communities based on the results of SILANI (Sistem Informasi Lanjut Usia: Older People Information System). SILANI covered all older people in three target villages in three provinces as pilot areas and collected the data on older people's life and care.
In response to the demand to assess the impact of the COVID-19 pandemic, ERIA, Bappenas and SurveyMETER (a research institution based in Yogyakarta) implement a phone survey targeting SILANI programme participants. This phone survey's first wave survey was conducted in July 2020, and the second wave is scheduled in November of the same year.
In the first webinar of the series on October 1st, the SILANI baseline survey results before the pandemic were shared and better understanding of the condition of Indonesia's older people .
In her Opening Remarks, Dr Erna Mulati, M.Sc.-CMFM, Director of Family Health at Indonesia's Ministry of Health, pointed out that by 2045, Indonesia is projected to have 63.3 million older people 60 years old or above, or around 19.9% of the population, which is double of the current number.
Equipping Indonesia's older people with the necessary resources and services is crucial to ensure they can enjoy healthy, happy, and independent lives as they age. The provision of effective and targeted programmes, as well as policies for older people, can set Indonesia's ageing population on course to become a human capital asset for the country.
The moderator of the event, Dr Reiko Hayashi, the Deputy Director-General at Japan's National Institute of Population and Social Security Research, shared that older people, aged 65 and above, make up 11% of the Japanese labour market, demonstrating how older people can become human capital assets to society.
The extensive impact of the COVID-19 crisis on Indonesia's older people requires an in-depth understanding of the challenges and conditions they are facing during the pandemic. The Director of Poverty Reduction and Community Empowerment at Bappenas, Dr Maliki, shared the SILANI phone survey's initial findings on COVID-19 impact, specifically on the mental health status of older people in Indonesia.
The survey shows that although Indonesia's mature population experiences more boredom and feels increasingly dissatisfied with their life during the pandemic, the COVID-19 crisis has given them a greater sense of hope and worth.
Bappenas hypothesizes that such a result is caused by the 'new normal' living arrangements where older people are spending more time with family members compared to the pre-pandemic, thus providing older people with an enhanced role that makes them feel worthy and hopeful. The phone survey results also indicated that Indonesian older people are most worried about their family's health, personal health, and economic security amid the pandemic.
Social assistance programmes are integral in guaranteeing adequate welfare of Indonesia's older population, who faces a greater risk of poverty, especially in times of crisis. Dr Firman Witoelar of the Australian National University stated in his presentation that the national poverty rate increases with age for those who are 65 years and older because their access to social protection remains limited.
Indonesia's central government has prioritized the provision of social assistance to the country's aged population during the pandemic. The SILANI phone survey offers a glimpse of whether such programmes have been effective. Dr Witoelar's analyses showed that 75% of SILANI phone survey respondents received social assistance measures though mostly in the form of basic goods/sembako rather than other forms of aid such as cash assistance.
The biggest source of social assistance for senior citizens across Indonesia has been informal sources of income and ad hoc community-based support. As such, Dr Witoelar finds that social protection measures may not be the primary solution to provide relief during a crisis hence raising the urgency for Indonesia to establish an inclusive and adaptive social assistance programme.
What the early findings of the SILANI phone survey entail is that there is more work that must be carried out by Bappenas and the Indonesian government in general to sufficiently address the needs and issues of its older citizens even in times absent of crises.
As Ms Eva Sabdono, MBA from the Emong Lansia Foundation pointed out, the necessity to respond to older people's needs should be done without requiring a crisis to trigger a response as is regularly done by the Indonesian government.
Discussants of the webinar, including Ms Sabdono, Ms Adelina Comas-Herrera, M.Sc. from the Care Policy and Evaluation Centre at the London School of Economics and Political Science, and Prof Sri Moertiningsih Adioetomo from University of Indonesia's Demographic Institute agreed that the SILANI project sets up a good base for finding solutions to the problems affecting Indonesian seniors.
As Ms Comas-Herrera mentioned in her commentary, the early work of the SILANI project, namely data collection and analysis, is a well-founded first step to shape an advanced long-term aging adult care system.
In his Closing Remark, Dr Pungkas Bajuhri Ali, Bappenas' Director of Health and Community Nutrition, echoed similar views in that data gathering and social assistance programmes are only the beginning if Indonesia seeks to address the core problems of its aging population going forward.
In that regard, SILANI offers substantial opportunities to become the foundation for future research, policymaking reference, and programme implementation of Indonesia's older people as more data is obtained and the project progresses further.
Related Articles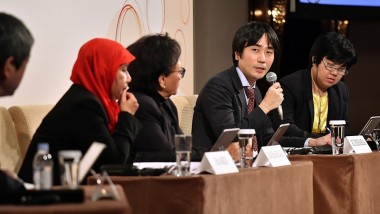 CHOOSE FILTER