Conference between Japan Section of the ASEAN-Japan Business Council and ASEAN Ambassadors in Tokyo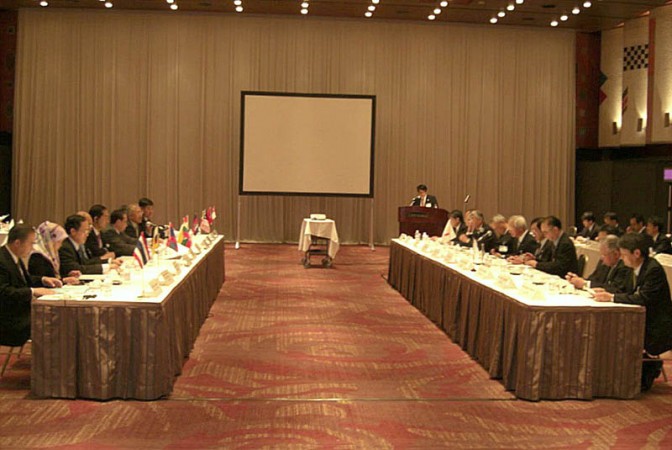 The Japan Section of the ASEAN-Japan Business Council (its secretariat is in the Japan Chamber of Commerce and Industry) held the conference with ambassadors from ASEAN countries in Tokyo on 11 April 2012. Total 49 particpants (28 people from the Japanese side, 21 people from ASEAN side including 7 ambassadors) were present.
This is the second time to held this conference (first conference was held in June, 2011) . At the conference, Mr. Tadashi Okamura, Chairman of the Japan Chamber of Commerce and Industry made a opening speech and Mr. Hor Monirath, Ambassador of Royal Embassy of Cambodia in Japan, explained about the recent activities of ASEAN for the realization of ASEAN Community. After that, Prof. Hidetoshi Nishimura, Executive Director of ERIA made a presentation entitled "ERIA's contributions towards Establishment of the ASEAN Community by 2015", explaining major ERIA's works for the core of the ASEAN Community, ASEAN Economic Community (AEC), such as AEC Scorecard, Midterm Review of AEC Blueprint, SME Policy Index, Comprehensive Asia Development Plan, Master Plan on ASEAN Connectivity.
The conference was concluded with exchanges of views. Japanese side explained the overview of draft of recommendation which will be submitted to the ASEAN Economic Ministers on April 27 and requested the promotion of the connectivity including ASEAN neighboring countries. In response to this, ambassadors mentioned about the real aim of ASEAN Connectivity, the efforts of enhancing competitiveness by each country, and the expectation to Japanese companies.
CHOOSE FILTER