Building National Resilience against Natural Disasters and Tsunami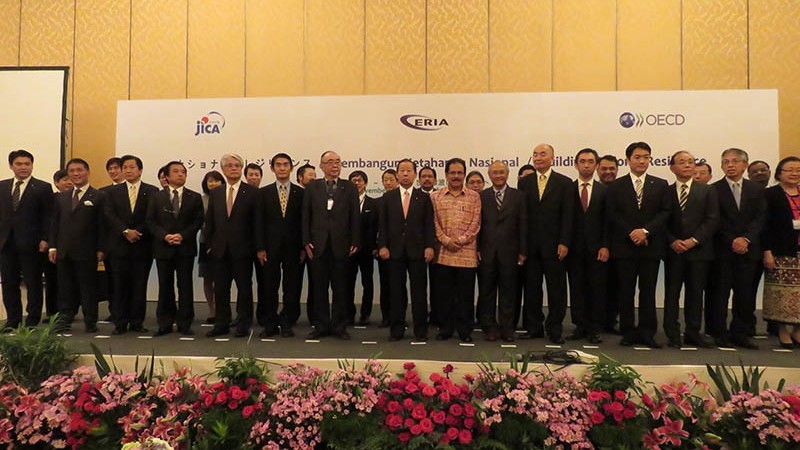 The 'Symposium on Building National Resilience - Recognizing World Tsunami Day on November 5 and Enhancing Global Awareness on Disaster Management and Prevention' was held in Jakarta, Indonesia, on 24 November 2015.
The symposium, jointly organized by Economic Research Institute for ASEAN and East Asia (ERIA), Japan International Cooperation Agency (JICA), and Organisation for Economic Co-operation and Development (OECD), shared information on disaster management in order to strengthen national resilience against disasters. It also aimed to raise the awareness of the World Tsunami Day, which the United Nations (UN) will adopt soon.
More than 280 people attended the symposium, including H.E. Mr. Toshihiro Nikai, of Japan's House of Representatives; H.E. Dr. Sofyan Djalil, Head of Bappenas; and H.E. Mr. Motoo Hayashi, Japan's Minister of Economy, Trade and Industry.
H.E. Mr. Nikai underscored that the international community needs to share the philosophy of national resilience in order to protect lives and property. He stressed the importance of continuous preparation in order for countries to respond immediately to natural disasters, and he asked for the support for the adoption of World Tsunami Day by the UN.
In conjunction with this event, several members of the delegation, including H.E. Mr. Toshihiro Nikai, and a number of members of Japan's parliament, as well as ERIA President Prof. Hidetoshi Nishimura, visited Aceh on the island of Sumatra, Indonesia, on 25-26 November 2015. The delegation visited several sites related to the tsunami that struck Aceh in 2014, such as the mass grave of Aceh tsunami victims, and the Aceh Tsunami Museum, among others. The delegation paid a courtesy call on Aceh Governor, H.E. Mr. Zaini Abdullah, and exchanged views and information on tsunami disaster prevention and the need for mutual cooperation between Japan and Indonesia on disaster management.
Photo Gallery
---
Building National Resilience Symposium
Aceh Visit
CHOOSE FILTER