ASEAN SG Dato Lim Pays Courtesy Calls on the New Ministers in Japan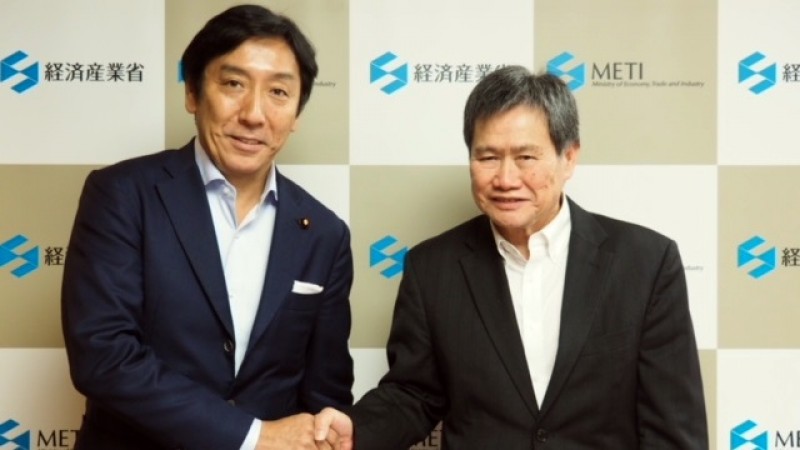 Japan, 19-20 September 2019: Secretary-General of ASEAN Dato Paduka Lim Jock Hoi visited Japan on 19 and 20 September 2019 to pay courtesy calls on the new ministers of Japan as a member of the Economic Research Institute for ASEAN and East Asia (ERIA)'s Governing Board. Dato Lim was accompanied by Prof. Hidetoshi Nishimura, President of ERIA.
At the meeting with H.E. Mr Isshu Sugawara, Minister of Economy, Trade and Industry, they discussed ERIA's good showing at G20 and ASEAN Economic Ministers Meetings based on the studies on trade facilitation, Free Trade Agreement, and Non-Tariff Measures. They also talked about the expectations for further progress of ASEAN-Japan cooperation and Regional Comprehensive Economic Partnership (RCEP).
They also met H.E. Mr Shinjiro Koizumi, Minister of the Environment, and H.E. Mr Yukari Sato, State Minister of the Environment. They discussed ways to overcome the issues of marine plastic debris in ASEAN and the further cooperation for the establishment of the Regional Knowledge Center for Marine Plastic Debris in ERIA.
During their meeting with H.E. Mr Taku Etoh, Minister of Agriculture, Forestry and Fisheries, Dato Lim and Prof. Nishimura expressed their appreciation for the Government of Japan's decision to dispatch an expert of food value chain in ASEAN. Dato Lim also discussed the harmonisation of the regulation in the field of agriculture between ASEAN and Japan.
Dato Lim and Prof. Nishimura visited the office of Mr Toshihiro Nikai, Chairman of Parliamentary League for ERIA and Secretary-General of Liberal Democratic Party, to report on ERIA's recent activities. Executive Members of the Parliamentary League for ERIA, Mr Motoo Hayashi, Mr Ryuji Koizumi, Mr Tsuyoshi Yamaguchi, Mr Yosuke Tsuruho, Mr Tadahiko Ito and H.E. Mr Akira Chiba, Ambassador Extraordinary and Plenipotentiary, Mission of Japan to ASEAN, joined the discussion how to develop a deeper cooperation between Japan and ASEAN in the field of environmental issues and ageing society in ASEAN.
In the margin of the above meetings, they made courtesy visits to Mr Fujio Mitarai, a former ERIA Governing Board Member; Mr Sadayuki Sakakibara, a current ERIA Governing Board Member; and Mr Nobuhiko Sasaki, Chairman of Japan External Trade Organization (JETRO).
Image Gallery
CHOOSE FILTER