ASEAN-Latin Business Forum 2012 on July 9-10, 2012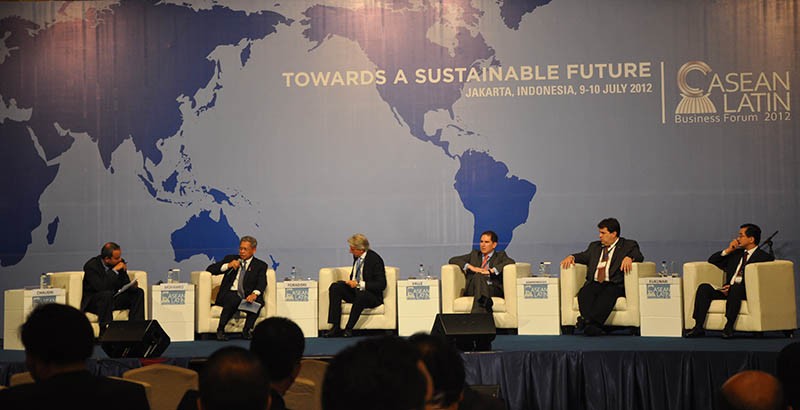 The ASEAN-Latin Business Forum 2012 was held on July 9-10, 2012 in Jakarta, Indonesia. It was attended by trade representatives, economists, corporate leaders, and academics from Latin American & Caribbean, Southeast Asia, and beyond.From ERIA, Prof. Hidetoshi Nishimura, Executive Director of ERiA, Prof. Fukunari Kimura, Chief Economist of ERIA, Dr. Dionisius Narjoko, Researcher of ERIA, attended.
Responding to global economic pressures and environmental challenges, it is more important than ever to develop a closer collaboration between members of Association of South East Asian Nations (ASEAN) and Latin American and Caribbean (LAC) countries. Increasing inter-regional linkages and transfer of knowledge between the two regions is a precondition for maximizing synergies.
The Forum features the theme of "sharing knowledge between ASEAN and Latin American countries on trade and investment" and more specifically aims at:
1. Raising awareness about ASEAN and LAC trade relations through exchange of knowledge and best practices, and
2. Encouraging resource mobilization to support new initiatives addressing critical needs in specific areas and in order to enhance economic ties between the two regions.
During the Forum, H.E. DR Susilo Bambang Yudhoyono, President of The Republic of Indonesia, stated that the ASEAN has a strong commitment to cooperate with as many countries and regional and international organizations as possible in his opening speech. This is in line with the spirit of the Bali Declaration on the ASEAN Community in a Global Community of Nations. Moreover His Excellency added that the ASEAN countries have become very closely integrated in their quest to achieve the ASEAN Economic Community by 2015.
Prof. Fukunari Kimura attended in the Session 3 on "Beyond Tariffs". The session discussed on what the effective ways to ensure a fair, inclusive and sustainable global trading system with facilitations to a differing level of development.
CHOOSE FILTER