ASEAN Endorses 'NTM Toolkit'
Bandar Seri Begawan, 9 September 2021: Strengthening the ASEAN economy is key to the region's recovery from the COVID-19 pandemic. One critical element to economic recovery is monitoring the creation and implementation of non-tariff measures (NTMs) to ensure the smooth flow of goods. In support of these efforts, the ASEAN Economic Ministers endorsed the 'Non-Tariff Measures Cost-Effectiveness Toolkit Handbook for ASEAN' (NTM Toolkit) at the Fifty-Third ASEAN Economic Ministers (AEM) Meeting which was held on 8-9 September 2021 via video conference.
The NTM Toolkit provides a step-by-step implementation procedure and tools that can be used to review NTMs. It is meant to enable users to review NTMs in terms of design, implementation, and compliance. Poorly designed and inefficiently implemented NTMs create administrative and financial burdens for the private sector as well as government agencies. This makes it necessary to review NTMs to minimise compliance costs, improve design, and make implementation processes more effective. The goal is to streamline NTMs to achieve public policy objectives at the lowest possible cost.
The NTM Toolkit, one of the Priority Economic Deliverables of the ASEAN Chairmanship of Brunei Darussalam, was developed by the ASEAN Trade Facilitation Joint Consultative Committee (ATF-JCC) and the Economic Research Institute for ASEAN and East Asia (ERIA), with support from the United Nations Conference on Trade and Development (UNCTAD). The Ministers highlighted the importance of the Toolkit as a guideline to manage NTMs in the region and encouraged ASEAN Member States to fully utilise it.
ERIA has been at the forefront of providing support to ASEAN's efforts in addressing NTMs over the past years. ERIA developed the ERIA-UNCTAD database which contains updated NTMs in ASEAN, Australia, China, India, Japan, Korea, and New Zealand. ERIA also supported the establishment of ASEAN Member States (AMS) National Trade Repositories (NTRs) by sharing NTM data collected by ERIA. Building capacity of government officials through NTMs training has also been part of ERIA's support.
Related Articles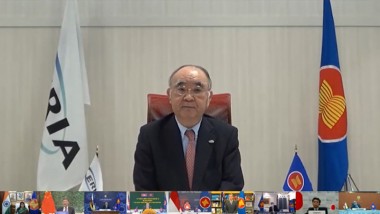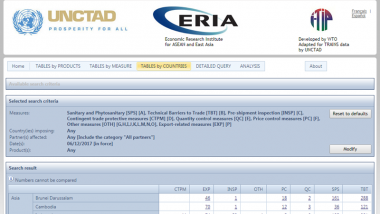 CHOOSE FILTER