9th Annual ERIN Meeting Held Virtually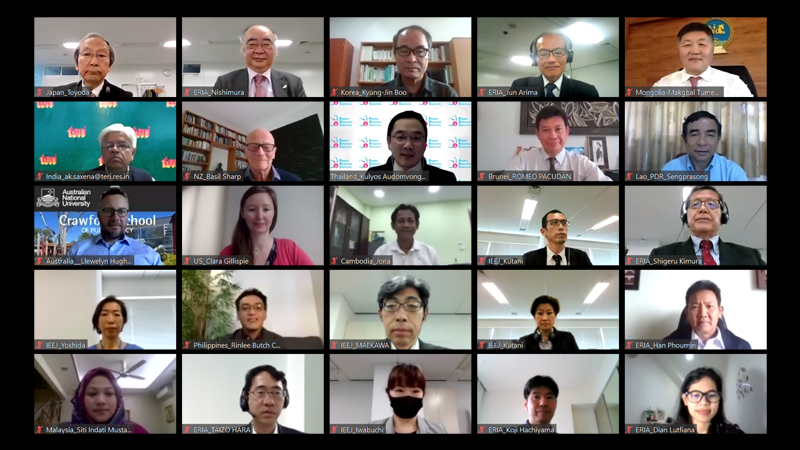 Virtual room, 10 March 2021: The 9th annual Energy Research Institute Network (ERIN) meeting was opened by Mr Kulyos Audomvongsere from Energy Research Institute, Chulalongkorn University who focused on the impact of COVID-19 on energy and climate change. Energy utilization is predicted to shift from fossil fuel to clean energy, such as renewable energies, as well as hydrogens resulting in improved environmental conditions and climate mitigations. ASEAN is expected to experience significant growth in renewable energy penetration. Solar PV utilization is anticipated to play an important role in renewable energy development in the region. He also pointed out that energy efficiency and the Internet of Things (IoT) will work simultaneously to maximize energy management at the lowest costs. In terms of the transportation sector, electric vehicles will play big role, replacing the internal combustion vehicle faster than expected. It is clear that energy transition is here, and the ERIN meeting serves as an important platform to collaborate and share knowledge towards this transition.
Dr Romeo Pacudan, Chair of ERIN, Institute of Policy Study, Universiti Brunei Darussalam (UBD), Brunei Darussalam, delivered welcoming remarks. First, he announced his resignation as ERIN's chairperson to focus on his role at the University of Brunei Darussalam. The next Brunei representative for ERIN will be coming from the Ministry of Energy.
The research sessions opened with Ms Clara E. Gillispie, Senior Advisor of The National Bureau of Asian Research (NBR), USA who presented the results of the NBR-ERIN study on strengthening emerging Asia's power sector. The objectives of the study were to disseminate regional perspectives on a range of energy, environmental, and investment topics; reflect the diversity of the region; bring together policy, industry, and research communities; and deepen regional cooperation and actions. Study results show several challenges including getting the right energy mix in the region; attracting investment; supporting better quality of infrastructure; and strengthening human capacity.
She also described the Free and Open Indo-Pacific concept (FOIP) as a form of Japan's contribution to South and Southeast Asia's energy security, in cooperation with the United States, Australia, and others. Furthermore, East Asia Summit (EAS) engagement has become increasingly crucial to mobilize capital and reduce barriers to greater regional trade and integration. This engagement can be done through individual or multilateral efforts. New Zealand's representative, Dr Basil Sharp, pointed out the importance of market liberalization and integration to energy investment in these regards.
The session was continued with a presentation from the Institute of Energy Economics Japan (IEEJ) on the study of the safety and effective use of nuclear power in order to formulate policy recommendations for an improved set of optimized nuclear safety regulations. The study proposed 10 improvements in the pursuit of best practices and optimized law and regulation, covering operations, licensing, governance, cost-benefit analysis, and socialization of regulations to all stakeholders. The Korean representative, Dr Kyung-Jin Boo from Seoul National University suggested conducting economic impact analysis as well as more in-depth communication with the public to garner public acceptance for nuclear power development. Decisions on nuclear development need to consider local amenities as well as the involvement of NGOs.
Shigeru Kimura, Special Adviser to the President on Energy Affairs, ERIA, announced new ERIN Energy Research Projects for 2021-2022, and requested members to submit their proposals by the end of March 2021. Suggested themes for the projects included energy transition to a carbon neutral society; balancing between energy supply security and climate change; energy statistics including hydrogen energy sources, and other relevant topics.
During the roundtable discussion, moderated by Prof Jun Arima, Senior Policy Fellow for Energy and Environment, ERIA, thirteen representatives from ERIN member institutions as well as energy experts from ERIA provided updates on energy policy and climate change policy actions towards renewable and clean energy, including hydrogen development. In this session, Mr Shigeru Kimura announced plans to formulate an Asia CCUS (carbon capture, utilisation, and storage) Network as a platform of collaboration and cooperation on development and deployment of CCUS in Asia region. ERIA will be the secretariate of the network.
Before closing the meeting, IEEJ announced the JICA scholarship program to support talented young leaders in the energy-environment field from Cambodia, Indonesia, Lao PDR, Malaysia, Myanmar, Philippines, Thailand, and Viet Nam. This scholarship is available for three different programs, encompassing 1 and 2-year master's programs, and 3 year Doctoral programs.
To wrap up the meeting, Prof Hidetoshi Nishimura, President of ERIA, delivered his closing remarks. He emphasized the importance of regional cooperation for CCUS development. He also emphasized the importance of the East Asia Forum and the Energy Ministers' Statement in 2020. Project results by ERIN policy recommendation to the summit, which will propel global attention forward. This year, clean energy and carbon neutrality are the key topics, and this ambition must be reflected in ASEAN member states' He also conveyed his sincere appreciation to all participants with special appreciation for Dr Romeo for his dedication as ERIN chairman for the past year.
Related Articles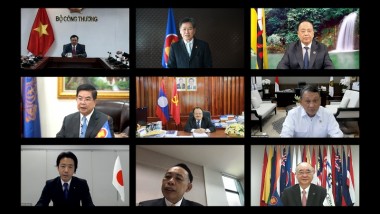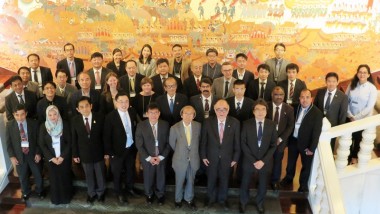 CHOOSE FILTER