7th Biomass Asia Workshop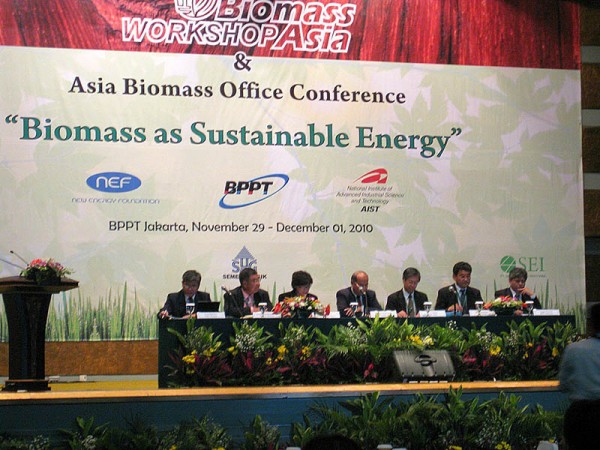 7th Biomass Asia Workshop was held at BPPT headquarter in Jakarta on Indonesia, 29 November and 1 December 2010.
This international workshop was organized by Agency for the Assessment and Application of Technology (BPPT), Indonesia, and National Institute of Advanced Industrial Science and Technology (AIST), Japan, and New Energy Foundation (NEF), Japan. Economic Research Institute for ASEAN and East Asia (ERIA) Working Group (WG) on "Sustainability Assessment of Biomass Utilisation in East Asia" was contributed the program of this workshop.
The main topic of the workshop was "Biomass as Sustainable Energy" with an emphasis in biomass waste utilization from palm oil, sugarcane, cassava etc for biofuel and power generation. Especially the purpose of joining this workshop was to receive various comments on the WG's research outcomes for our ERIA Working Group on "Sustainability Assessment of Biomass Utilisation in East Asia" (the WG). Therefore, the WG gave three oral presentations and two poster presentations in this workshop. Dr. Yuki Kudoh introduced the WG activities and sustainability concept and indictors, Prof. Jessie C. Elauria explained our WG's sustainability assessment methodology for biomass utilisation and Dr.Udin Hasanudin showed the result of one of pilot project studies in Lampung, Indonesia on 30th November 2010.
In addition, one poster was "Sustainability Assessment of Biomass Energy Utilization in Selected East Asian Countries" to show results of four pilot project studies in India, Indonesia, the Philippine and Thailand by the WG members and another one was "Social Impact Assessment of Biofuel-Related Activities in East Asia" to analyze social impact in selected projects by Dr. Tomoko Konishi, Prof. Vinod Kumar Sharma, Dr. Jane Romero, and Dr. Masayuki Sagisaka. Furthermore, Dr. Chen Sau Soon gave important comments from expert perspective during panel discussion.
CHOOSE FILTER