4th ISAC International Symposium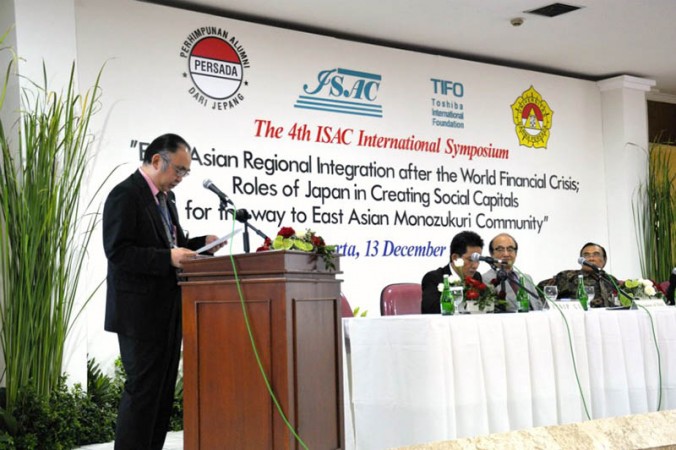 The 4th ISAC International Symposium entitled on "East Asian Regional Integration after the World Financial Crisis; Roles of Japan in Creating Social Capitals for the way to East Asian Monozukuri Community" was held on 13 December 2010 at University of Darma Persada.
Executive Director, ERIA, Mr. Hidetoshi Nishimura attended the symposium as a presenter. He gave a presentation on "ERIA and its Activities". He briefed ERIA's recent developments and then explained about the ASEAN Economic Community in the year 2015 giving an example of China's success.
The establishment of ASEAN Economic Community in the year 2015 has a great meaning for ASEAN and East Asia and its impact will be tremendous. Present Chinese development promises great future for ASEAN after the establishment of AEC.
Key pillars of AEC are establishment of single market and production base, competitive economic region, equitable development and integration with the global economy. These elements have same implication as the Chinese efforts in the last decade in joining WTO, liberalization of foreign direct investment and domestic logistic liberalization. Chinese GDP in the year 1999 was 1.08 trillion USD, while ASEAN's GDP in the year 2009 was around 2.03 trillion USD. Since China made efforts for the establishment of domestic single market by logistic liberalization in the year 2003 to 2005, China accelerated its growth that led to the achievement of GDP of nearly 5 trillion USD. The establishment of AEC has a similar implication and impact like this, and it is quite likely that the success of AEC in 2015 will create similar size of big economic region more than 4 trillion USD in the year 2020.
The next day on 14 December 2010, the delegation of ISAC including speakers of the symposium led by Chairman of ISAC, Professor Emeritus of the University of Tsukuba, Mr. Eiichi Shindo visited ERIA Annex Office. (Picture2)
CHOOSE FILTER