2nd ASEAN Brief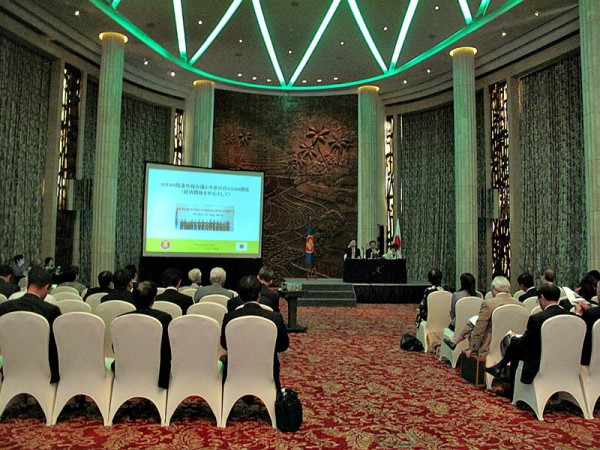 Embassy of Japan in Indonesia and ERIA jointly organized the 2nd ASEAN Brief on 29 July 2010, at Hotel Indonesia Kempinski Jakarta. The 1st meeting was held on 31 May 2010.
The objectives of this meeting to share the information and prospects on the political and economic trends of ASEAN region with Japanese government and Japanese private enterprises.
It was opened by Mr. Takio Yamada, Japanese ambassador to ASEAN. Ambassador Yamada briefed the result of a series of Japan-related Foreign Ministers Meeting held from 20 to 23 July 2010.
At the EAS Ministers' Informal Consultations which was held on 21 July 2010 in Vietnam, the Ministers noted with interest ASEAN's initiative to develop a Master Plan on ASEAN Connectivity. In this regard, they also noted the implementation of Japan's "Growth Initiative towards Doubling the Size of Asia's Economy.
In conjunction with this, Ambassador Yamada said " there is the consensus of strategic benefits between ASEAN and Japan", and stressed that the importance of contribution towards a more productive and constructive ASEAN-Japan relations. Prof. Fukunari Kimura, Chief Economist, ERIA, made a presentation on " ERIA's Activities towards ASEAN Economic Integration".
Prof. Kimura explained ERIA's mandate for policy research from East Asia Summit and ASEAN Summit and ERIA's research activities which are currently embarking on. Ms. Sachiko Ishikawa, an expert of Japan International Cooperation Agency (JICA), gave a presentation on "JICA's Support towards ASEAN Integration". Ms. Ishikawa said that JICA must actively contribute for building a strong and closely integrated ASEAN. After the meeting, inauguration ceremony of Mr. Takio Yamada, Japanese ambassador to ASEAN, who is the first dedicated Ambassador to ASEAN based in Jakarta ,was held at the same occasion.
It was attended by 300 people including diplomats and government officials in ASEAN member states as well as participants of ASEAN Brief. Dr. Surin Pitsuwan, Secretary-General of ASEAN, also attended the ceremony.
CHOOSE FILTER