Database and Programmes
Back
Unpacking the RCEP Agreement: Public-Private Dialogue Series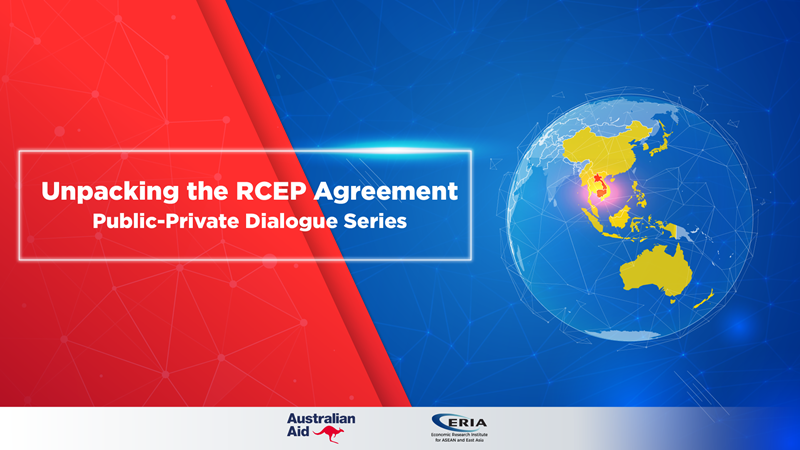 The Regional Comprehensive Economic Partnership (RCEP) marks the establishment of a free trade agreement amongst 15 states. RCEP will create new business opportunities and change the shape of trade in the region.
To help businesses in Cambodia and Lao PDR understand the opportunities and benefits that will become available to them through RCEP, ERIA's Capacity Building Programme is organising a series of Public-Private Dialogues focusing on five key themes. Each Dialogue, to be held once for Cambodia and once for Lao PDR, will bring together business, government and international trade experts.
The Unpacking the RCEP Agreement series will focus on the following themes: E-commerce, Rules of Origin, Trade Facilitation, Trade in Services and Investment.
Dialogue 1: The RCEP E-commerce Provisions and What They Mean for Cambodia
Tuesday, 2 November 2021, 8:30 AM - 12:30 PM
E-commerce: Under the e-commerce provisions, digitalisation of trade will be enhanced through increasing levels of trust and confidence amongst e-commerce users. E-commerce platforms will bring about opportunities as buyers can easily browse and purchase goods or services online across borders, especially good to support MSMEs and COVID-19 recovery. If you are in Cambodia, glean insights together with our distinguished panel of speakers on how to maximise the benefits from the e-commerce.
Dialogue 2: Rules of Origin
Thursday, 10 February 2022, 9 AM - 11 AM
The chapter on Rules of Origin (ROO) in RCEP determines which goods originate from RCEP member countries so can benefit from preferential tariff treatment. RCEP consolidates ROO by making it easier for exporters to cumulate and rely on a single proof of origin. This facilitates exporters and importers of goods from RCEP countries and speeds up delivery.
Dialogue 3: Trade Facilitation
Trade across borders will be simplified under new Trade Facilitation provisions such as advance rulings, rules of origin, customs valuation; customs clearance of goods, risk management and post-clearance audits facilitates trade amongst the RCEP countries. and this translates into better delivery of goods.
Dialogue 4: Trade in Services
With Trade in Services, RCEP will opens up services amongst member countries for professional services such as telecommunications and financial services. There will also be mutual recognition of professional qualifications, with obligations and frameworks for increased cooperation.
Dialogue 5: Investment
This chapter will support investment into RCEP member countries by providing transparency of investment, a streamlining of administrative processes, and mechanism for investors to address their concerns through one-stop investment centers.
CHOOSE FILTER