Database and Programmes
Back
Reporting Viet Nam Chairmanship of ASEAN: ERIA Media Workshop in Hanoi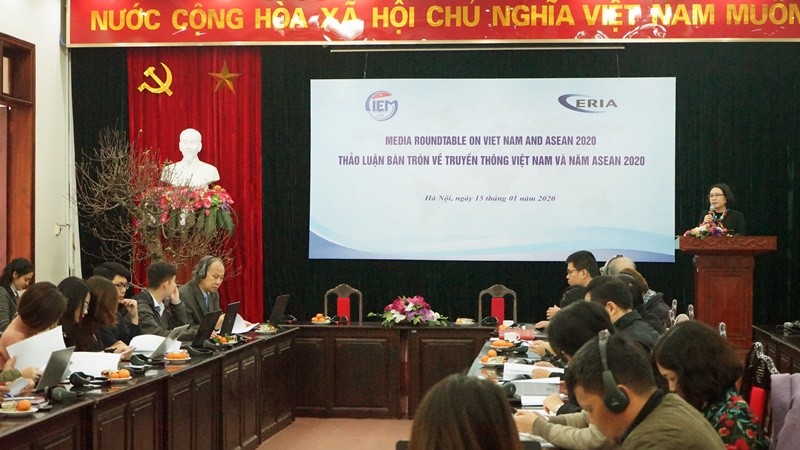 Hanoi, 15 January 2020: A media workshop was held today to discuss media strategies for Vietnam's ASEAN chairmanship for Vietnamese media community.
The Centre Institute for Economic Management (CIEM) and the Economic Institute of ASEAN and East Asia jointly organised the workshop to prepare the Vietnamese journalists from all media platforms to report about Viet Nam's chairmanship more comprehensively and vigorously.
In her opening remark for the workshop, Ms Tran Thi Hong Minh, President of CIEM, said that Viet Nam has a big responsibility as the ASEAN chairman as well as a member of non-permanent member of UN Security Council. She expected the Viet Nam media would be able to report their countries' activities related to these two important positions.
Kavi Chongkittavorn, ERIA Senior Communication Advisor, provided a deep background briefing on key issues that would impact ASEAN and the region and how journalists can best report them. He discussed the planned invitation of President Donald Trump for all the ASEAN leaders to have a special summit in the US during the first quarter of this year. Other topics included the status of the Regional Comprehensive Economic Partnership, the ongoing negotiations over the Code of Conducts in South China Sea, the situation in Korean Peninsula, ASEAN role in the Rakhine crisis, the future of ASEAN Outlook on Indo-Pacific, among others.
About 30 journalists from state and private media platforms attended the workshop. This is the first time that such a workshop has been convened to improve the capacity of Vietnamese journalists to cover Viet Nam's chairmanship and ASEAN including other related matters.
Kavi reiterated at the workshop that it is pivotal for the Vietnamese journalists to report on ASEAN activities with homegrown narratives. As such, he said, they have to do lots of homework to understand issues that affect ASEAN as a whole.
He also said that journalists must not rely on just one source or one view to report on ASEAN-related issues. 'Journalists should diversify their sources of information both coming from official or non-official sources. They must also speak to civil society organizations and ordinary people,' he suggested.
He also stressed that ERIA has published many research works about ASEAN and its future including various aspects of ASEAN integration and connectivity.
ERIA is planning to organise the 9th ERIA Editors Roundtable in Hanoi in the near future. For the past decade, ERIA has organised a roundtable to support the rotational ASEAN chairmanship to promote its role and activities. Editors and senior journalists from the members of East Asia Summit are invited to take part in the roundtable.
CHOOSE FILTER