Database and Programmes
Back
[Policy Brief] COVID-19 and Southeast and East Asian Economic Integration: Understanding the Consequences for the Future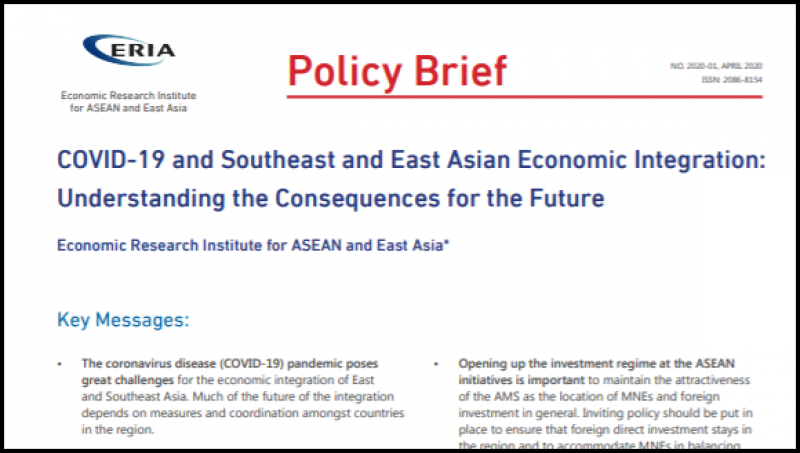 Key Messages
The coronavirus disease (COVID-19) pandemic poses great challenges for the economic integration of East and Southeast Asia. Much of the future of the integration depends on measures and coordination amongst countries in the region.
The Association of Southeast Asian Nations (ASEAN) is the natural leader in the recovery from the pandemic, by deepening economic cooperation amongst countries under the East Asia Summit (EAS) framework. The ASEAN Community (Economic and Socio-Cultural) is a natural platform, as the need to cooperate with East Asian countries (Dialogue Partners) is embedded in the community blueprints.
This policy brief presents directions that ASEAN could take in the context of the recovery and for strengthening economic regionalism to withstand similar shocks in the future.
It is important for ASEAN to have sustained connectivity within East and Southeast Asia to maintain the competitiveness of regional production networks. There is also an urgent need for workable mechanisms to facilitate public-private partnerships, as many countries are still in recovery mode after huge stimulus packages during the pandemic.
ASEAN will further liberalise the trade and investment regime to maintain the competitiveness of global value chains (GVCs) in the region. Trade liberalisation is focused on non-tariff measures (NTMs) and the service sector, with the objective of minimising restrictions from NTMs and providing sufficient services to support GVCs within domestic economies.
Opening up the investment regime at the ASEAN initiative is important to maintain the attractiveness of the ASEAN Member States (AMS) as the location of multinational enterprises (MNEs) and foreign investment in general. Inviting policy should be put in place to ensure that foreign direct investment stays in the region and to accommodate MNEs in balancing their investment portfolios in the post-pandemic era.
Connectivity enhancement and trade-and-investment liberalisation as described above are important policies to improve the attractiveness of the ASEAN region as an investment destination. The current disruption in GVCs raises concerns about reshoring by MNEs that so far have invested in the region. Therefore, ASEAN needs to embark on policy actions to mitigate such concerns, by further opening up investment regimes and by encouraging MNEs to balance their investment portfolios.
Strengthening initiatives in several areas is warranted under the ASEAN Socio-Cultural Community to prepare AMS for similar events in the future. One area that could be reinforced is social protection and insurance schemes, which are increasingly integrated into the broader natural disaster response under the ASEAN Socio-Cultural Community.
Preface
Understanding the Consequences of the COVID-19 Pandemic for the Future of Southeast and East Asian Economic Integration: Recover, Responsive, Resilient
Policy Briefs
COVID-19 and Southeast and East Asian Economic Integration: Understanding the Consequences for the Future
Implications of the COVID-19 Crisis on the Energy Sector and Climate Change in ASEAN
CHOOSE FILTER