Database and Programmes
Back
ERIA Participates in First Expert Group on Skills and Innovation of OECD-European Commission HEInnovate Initiative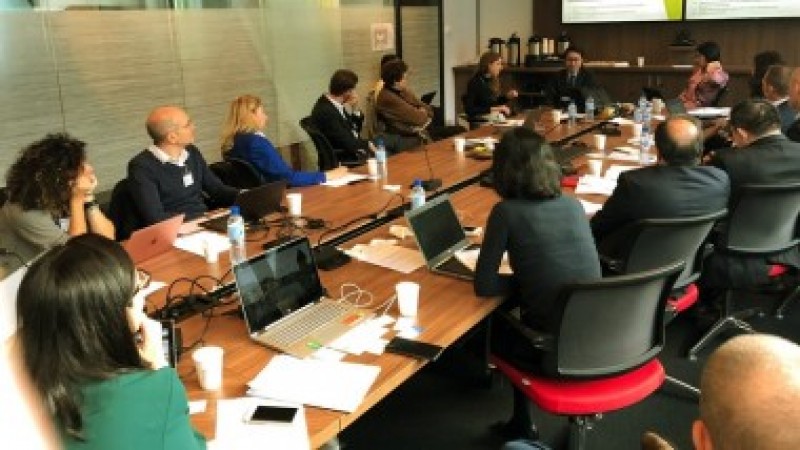 Paris, 9 October 2019: ERIA, together with experts from OECD countries, emerging economies, and the OECD Secretariat, participated in the first expert group discussion on Skills, Innovation and Entrepreneurship under the OECD-European Commission HEInnovate Initiative. This initial meeting was organised to gather insights from experts on the conceptualisation of entrepreneurship education in higher education institutions.
The discussion was opened by Ms Yuri Belfali, Head of Division, OECD Directorate for Education and Skills and Dr Raffaele Trapasso, Leader of the HEInnovate Initiative, OECD Center for Entrepreneurship, SMEs, Regions and Cities. They presented a conceptual framework provided by the OECD Secretariat. Participants then assessed the different components of the conceptual framework. Issues such as the importance of soft skills, continuous education and training to prepare students and future workers for the digital economy, innovative teaching methods to promote entrepreneurship, and inter-disciplinary knowledge all emerged as important building blocks to promote education for innovation and entrepreneurship. These issues are highly important for both OECD and ASEAN member countries.
Experts participating in the discussion included: Prof Slavica Singer, UNESCO Chair and Emeritus Professor, Croatia; Prof Siah Hwee Ang, Victoria University of Wellington and Director of South East Asia CAPE, New Zealand; Dr Imre Gombkoto, European Institute of Innovation and Technology, EU; Prof Rosa Grimaldi and Chiara Di Guardo, Italy; Prof Magnus Klofsten, Sweden; Dr Malcolm Hoare, Monfort University Center for Enterprise and Innovation, UK. ERIA was represented by Dr Giulia Ajmone Marsan, Director for Strategy and Partnerships, ERIA.
ERIA was the only international organisation invited to the first expert group discussion, beyond the OECD who hosted the event. Representatives from European and OECD countries greatly appreciated information about priorities and initiatives from ASEAN and East Asia countries.
CHOOSE FILTER