Database and Programmes
Back
Capacity Building Seminar 2013 in Halong Bay, Vietnam (RCEP)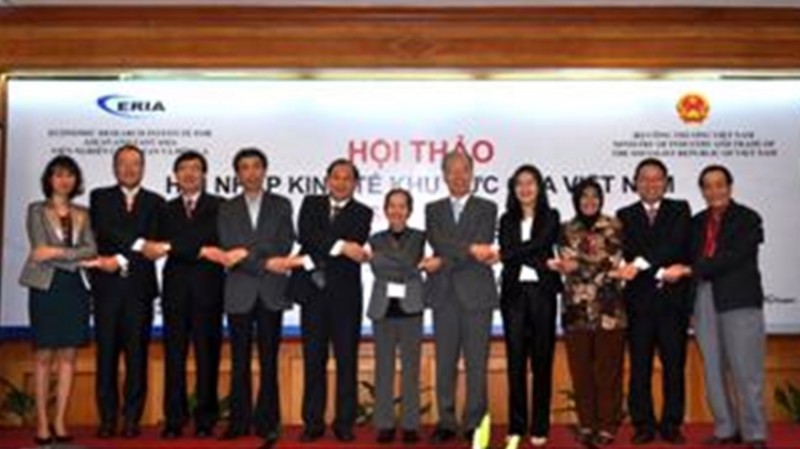 Economic Research Institute for ASEAN and East Asia (ERIA) held the ERIA Capacity Building Seminar 2013 "Upgrading Vietnam's Position in Regional Integration" at Halong Plaza Hotel, Halong Bay, Vietnam on November 25, 2013, together with the Ministry of Industry and Trade (MOIT) of Vietnam, supported by Bangkok Research Center (BRC), JETRO Bangkok.
The Seminar focused on Regional Comprehensive Economic Partnership (RCEP). Around 30 Government officials from Hanoi and 11 representatives from Halong attended the seminar. The seminar is a part of long-standing capacity building program since 2008 initiated by ERIA for the new ASEAN members (Cambodia, Lao PDR, Myanmar and Vietnam) on their efforts to integrate their economies with ASEAN.
H.E. Nguyen Cam Tu, Deputy Minister, Ministry of Industry and Trade of Vietnam and Prof. Yasuhiro Yamada, Special Assistant to the Executive Director of ERIA and President, Bangkok Research Center, IDE?JETRO welcomed the participants and summarized the globalization process in Vietnam, its achievements, and the importance of the RCEP for the ASEAN Member States (AMSs).
The prominent speakers for the seminar were, Prof. Chang Jae Lee, Senior Research Fellow, Korean Institute for International Economic Policy (KIEP), South Korea, Dr. Titik Anas, Economist, Centre for Strategic and International Studies (CSIS, Indonesia, Dr. Lili Yan Ing, Economist, ERIA, Dr. Vo Tri Thanh, Vice President, Central Institute for Economic Management (CIEM), Vietnam, Mrs. Pham Chi Lan, Former Vice President of Vietnam Chamber of Commerce and Industry (VCCI) and Mr. Akinori Okazaki, Vice President, Production Division, DENSO, Thailand.
Co-organiser
Ministry of Industry and Trade (MOIT) of Vietnam
Supported by
Bangkok Research Center (BRC), JETRO Bangkok
Press Release - Vietnam to Move Forward ASEAN+1 FTAs Towards RCEP
CHOOSE FILTER