Prof. Hidetoshi Nishimura Reappointed as ERIA Executive Director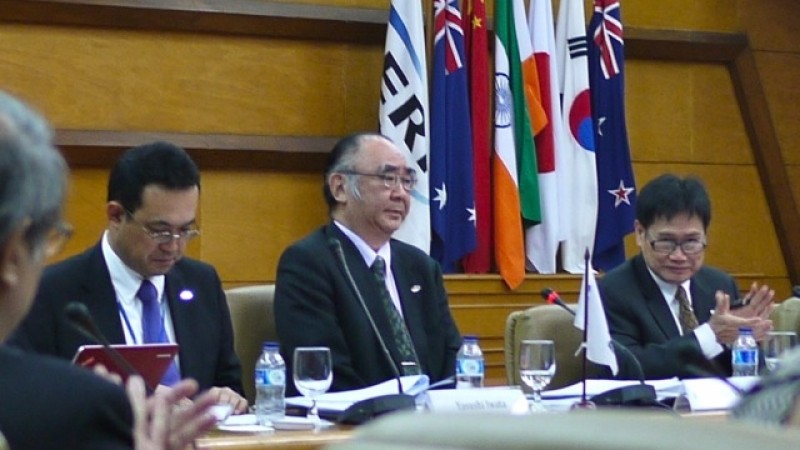 The Economic Research Institute for ASEAN and East Asia (ERIA) Governing Board today unanimously reappoints Prof. Hidetoshi Nishimura for another five-year term as executive director to head the Jakarta-based leading international economic organization.
Tan Sri Datuk Asmat bin Kamaludin, Group Chairman, UMW Holdings Berhad from Malaysia, took the lead to endorse Prof. Nishimura's second term. "I have full confidence in his leadership and vision. His pro-active attitude and dynamism has benefitted ERIA," commented Tan Sri Datuk Asmat.
Under his leadership for the past five years, ERIA has gained international recognition of numerous high-quality research policy papers and workshops. This year it is ranked 28th on the list of world's leading economic policy think tanks by University of Pennsylvania, Philadelphia.
"I am very honored for the reappointment and I do my best to make the realization of economic integration of the region," reiterated Nishimura in his acceptance speech. Dato Paduka Lim Jock Hoi, on behalf of the Governing Board and the chair of ASEAN Economic Ministers, also commended the excellent work that ERIA has done over the past five years under Prof. Nishimura's tutelage.
"I hope Prof. Nishimura's continued leadership will further promote ERIA to become one of the world's leading economic organization and promote the economic integration of ASEAN and East Asia," commented Dr. Hang Chuon Naron, Secretary of State, Ministry of Economic and Finance of Cambodia.
During the deliberation, other board members also echoed similar sentiments and supports. Several ASEAN members also issued official letters of support for Prof. Nishimura's reappointment.
After graduating from University of Tokyo with a law degree, Prof. Nishimura joined the Ministry of International Trade and Industry and assumed numerous positions both inside and outside Japan related to economic cooperation. He becomes a visiting professor of Waseda University and Miyazaki Sangyo-Keiei University and Fellow of Meiji Institute for Global Affairs, Meiji University.
The members of ERIA Governing Board include: 1) H.E. Le Luong Minh, Secretary General of ASEAN, 2) Dr. Stephen Grenville AO, Former Deputy Governor of the Reserve Bank of Australia, 3) Dato Paduka Lim Jock Hoi, Permanent Secretary (Trade), Ministry of Foreign Affairs and Trade, Brunei Darusalam,4) H.E Dr. Hang Chuon Naron, Secretary of State, Ministry of Economic and Finance, Cambodia, 5) Professor Zhang Yunling, Director of Academy Division for International Studies, Chinese Academy of Social Sciences, People's Republic of China, 6) Ms. Kiran Mazumdar-Shaw, Chair and Managing Director, Biocon Limited, India, 7) Mr. Hiroshi Okuda, Governor of Japan Bank for International Cooperation (JBIC), Japan, 8) Mr. Suck-Rai Cho, Chairman and CEO, Hyosung Corporation, South Korea, 9) H.E. Bounthavy Sisouphanthong, Vice Minister of Planning and Investment, Lao People's Democratic Republic, 10) Tan Sri Datuk Asmat bin Kamaludin, Group Chairman, UMW Holdings Berhad, Malaysia, 11) Daw Lai Lai Thein, Director General, Planning Department, Ministry of National Planning and Economic Development, Myanmar, 12) Dr. John Wood, Pro Chancellor, University of Canterbury, New Zealand, 1) Dr. Ramon Millar Quesada, Chairman and CEO, Small Business Corporation, Department of Trade and Industry, the Philippines,14) Ambassador Barry Desker, Dean, S Rajaretnam School of International Studies, Singapore, 15) Ms. Srirat Rastapana, Director General, Department of International Trade Promotion, Ministry of Commerce, Thailand, 16) Dr. Le Xuan Ba, President, Central Institute for Economic Management of Vietnam (CIEM).
To download the Press Release, please click on the following PDF file:
Prof Hidetoshi Nishimura_Reappointed as Executive Director of ERIA_rev.pdf
CHOOSE FILTER