Resilience and Recovery in Asian Disasters: Community Ties, Market Mechanisms, and Governance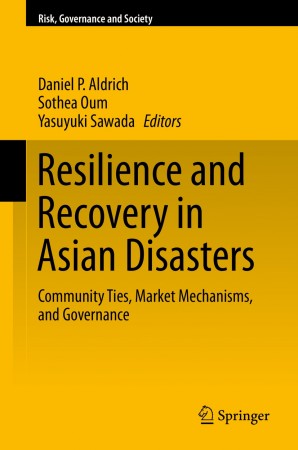 This book establishes a new, holistic framework for disaster recovery and mitigation, providing a multidisciplinary perspective on the field of risk management strategies and societal and communal resilience. Going beyond narrow approaches that are all too prevalent in the field, this work builds on an optimum combination of community-level networks, private market mechanisms and state-based assistance strategies. Its chapters describe best practices in the field and elucidate cutting-edge research on recovery, highlighting the interaction between government, industry and civil society.
The book uses new data from a number of recent disasters across southeast and east Asia to understand the interactions among residents, the state, and catastrophe, drawing on events in Malaysia, Vietnam, Cambodia, Japan, China and Thailand. Grounded in theories of risk mitigation and empirical research, the book provides practical guidance for decision makers along with future research directions for scholars.
The Asian region is highly prone to natural disasters which devastate large and mostly poor populations. This book deals with some of the root issues underlying the continued vulnerability of these societies to catastrophic shocks. The book is unusual in that it comprehensively covers resilience and fragilities from community levels to market mechanisms and governance and it analyses these issues in very different economic and structural settings. Recommended for development and disaster risk managers—without question.

Professor Debarati Guha-Sapir
Director, Centre for Research on the Epidemiology of Disasters (CRED);
Professor, University of Louvain, Research Institute Health and Society.
About the Book
2015, XIV, 359 p. 40 illus., 22 illus. in color.
Available in hardcover, softcover, eBook, and MyCopy here.
Table of Contents
Community, Market, and Government Responses to Disaster (Daniel P. Aldrich, et al.)
Social Capital in Post Disaster Recovery: Strong Networks and Communities Create a Resilient East Asian Community (Daniel P. Aldrich)
The Role of Community Social Protection in Natural Disaster Risk Management in Cambodia (Sann Vathana, et al.)
Economic and Welfare Impacts of Disasters in East Asia and Policy Responses: The Case of Vietnamese Communities (Le Dang Trung)
The Impact of the 2011 Floods, and Flood Management on Thai Households (Nipon Poaponsakorn, et al.)
Impact of Recent Crises and Disasters on Regional Production Networks and Trade in Japan (Mitsuyo Ando)
Impact of Natural Disasters on Production Networks and Urbanization in New Zealand (Brent Layton)
Long-Run Economic Impacts of Thai Flooding on Markets and Production Networks: Geographical Simulation Analysis (Ikumo Isono, et al.)
Index-Based Risk Financing and Development of Natural Disaster Insurance Programs in Developing Asian Countries (Sommarat Chantarat, et al.)
On the Design of Regional Insurance Markets for East Asia (Hiroyuki Nakata)
Natural Disaster and Economic Policy for ASEAN and the Pacific Rim: A Proposal for a Disaster Risk Reduction 'Seal of Approval' Fund (Ilan Noy)
Impacts of Disasters and Disaster Risk Management in Malaysia: The Case of Floods (Ngai Weng Chan)
Impacts from and State Responses to Natural Disasters in the Philippines (Danilo C. Israel, et al.)
Impacts of Natural Disasters and Disaster Risk Management in China: The Case of China's Experience in the Wenchuan Earthquake (Yi-Ming Wei, et al.)
Impact of Disasters and Disaster Risk Management in Singapore: A Case Study of Singapore's Experience in Fighting the SARS Epidemic (Allen Yu-Hung Lai, et al.)
Approaches Towards Effective Disaster Risk-Coping Strategies and Regional Cooperation on Disaster Management (Daniel P. Aldrich, et al.)
Related Articles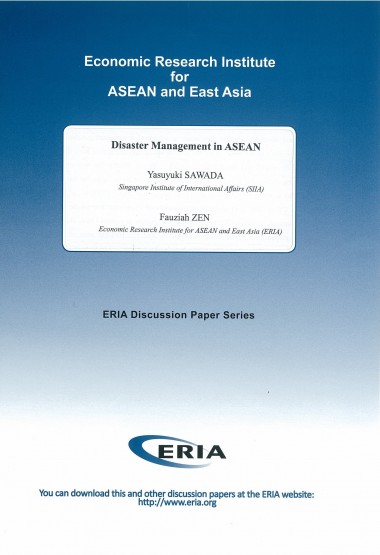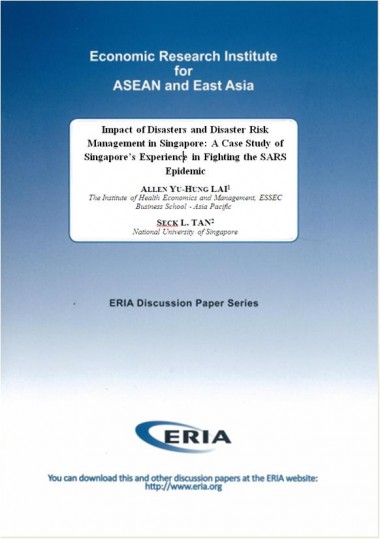 CHOOSE FILTER