Reforming The Intellectual Property System to Promote Foreign Direct Investment in ASEAN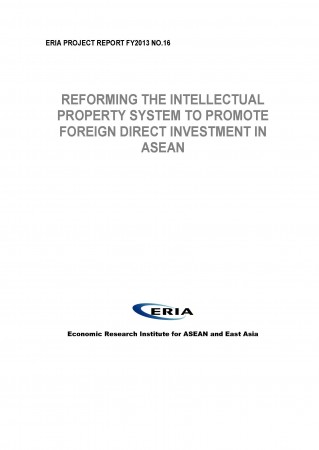 The Association of Southeast Asian Nations (ASEAN) adopted the 'ASEAN Intellectual Property Rights Action Plan 2011-2015' in 2011. In said action plan, ASEAN recognises that to encourage foreign direct investments in the region, it needs to ensure the protection and enforcement of intellectual property rights (IPRs) of trading partners.
Through interviews and a survey questionnaire, this study investigated the current status of the intellectual property (IP) regime and IP policy in ASEAN Member States (AMS), and how the AMS could and should develop their IP-related policies to promote investments by multinational companies by clarifying the kinds of IPR protection and enforcement essential for foreign direct investment. Selected multinationals considering expansion into, and those that have already expanded to, the AMS were interviewed, to identify the opportunities and challenges of the IP landscape in the AMS.
Full Report
Contents
Chapter 1. Purpose of the Study and Research Method
Chapter 2. Overview of the Research Items Examined
Chapter 3. Overall Trend of Companies Investing in ASEAN
Chapter 4. Expansion Factors: Similarities and Differences in ASEAN Countries
Part III Analysis of Multinational Companies
Chapter 5. Japanese Companies
Chapter 6. Chinese Companies
Chapter 7. Korean Companies
Chapter 8. US and EU Companies in Singapore
Chapter 9. US and EU Companies in Thailand
Chapter 10. US and EU Companies in Indonesia
Chapter 11. US/EU Companies in Viet Nam
Part IV Problems and Challenges of Intellectual Property Systems in ASEAN
Chapter 12. Summary of the Research
Chapter 13. Recommendations
CHOOSE FILTER