Framing the ASEAN Socio-Cultural Community Post- 2015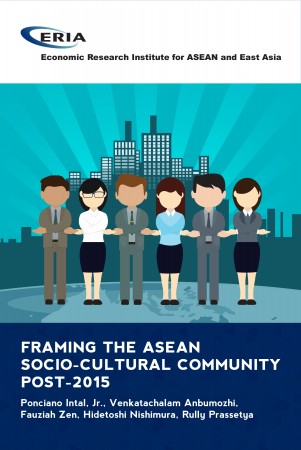 An inclusive, sustainable, resilient, and dynamic community that engages and benefits the people is what ASEAN aspires to in the post-2015 period. This vision reflects ASEAN's drive towards the building of an ASEAN Community that is people-oriented and people-centred. This outlines the framework and key recommendations for achieving the vision. The key recommendations presented are necessarily context specific; nonetheless, the factors for its successful implementation would be similar.
It is hoped that the combination of the proposed framework and specific policy recommendations as well as key success factors outlined in this publication will result in the ASCC Blueprint 2016-2025 that is transformative and be successfully implemented with broad support from the whole ASEAN Community.
Full Report
Contents
Chapter 1. ASEAN and ASEAN Socio-Cultural Community: Progress and Challenge
Chapter 2. Vision, Indicative Outcomes, and Framework
Chapter 3. Engendering an Inclusive and Caring ASEAN Community
Chapter 4. Engendering a Resilient and Sustainable ASEAN
Chapter 5. Engendering a Deep Sense of ASEAN Identity and Destiny
Chapter 6. ASCC Moving Forward Post-2015: Summary and Key Recommendations
CHOOSE FILTER