Formulating Policy Options for Promoting Natural Gas Utilization in the East Asia Summit Region Volume II: Supply Side Analysis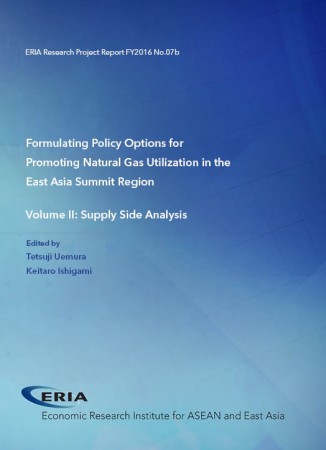 There is an increasing interest in understanding the demand potential of natural gas and its implication in the East Asia Summit region. This ERIA study was proposed by Japan at the 10th East Asia Summit Energy Ministers Meeting in 2016. Comprising two volumes, this report focuses on ASEAN and India markets and aims at understanding the future natural gas demand and estimating the size of the market on the demand side, and correspondingly deriving the necessary investment in infrastructure on the supply side. From both sides, the challenges and policy options are drawn.

This volume, dedicated to the supply side analysis, tries to identify the most suitable and feasible supply chain solutions based on the size of demand, main users of natural gas, technical constraints, geographical constraints, as well as available existing transport infrastructure. The estimated investment for additional natural gas supply chain by 2030 is US$81 billion altogether.
Full Report
---
Contents
---
Chapter 2. Methodology Part II
Chapter 3. LNG Supply Chain Infrastructure
Chapter 4. Additional LNG demand distribution in ASEAN and India in 2030
Chapter 5. LNG supply chain infrastructure analysis
Chapter 6. Investment in LNG supply chain infrastructure estimation
Chapter 7. Legal Framework for LNG supply chain infrastructure
Chapter 8. Policy Implications
CHOOSE FILTER