ASEAN-India Gas Cooperation: Redefining India's "Look East" Policy with Myanmar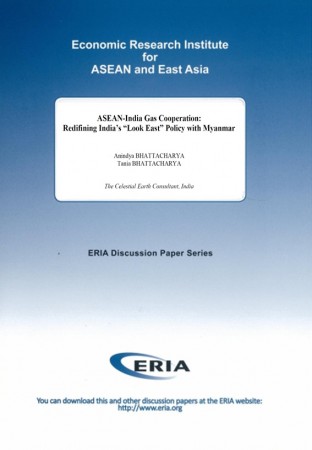 As economic power shifts towards Asia---particularly China, India and the Association of Southeast Asian Nations (ASEAN) ---a robust energy cooperation within this region will help sustain the region's development. Cooperation master plans already in place include interconnecting power grids and gas pipelines, engaging in cross-border power projects and promoting freer trade of energy commodities among the countries. The East Asia Summit region (EAS) pioneers such cooperation not only within the ASEAN region and the Greater Mekong Subregion (GMS) but with nations such as India, Russia, the United States, and Australia as well. This study, though, focuses more on India and how its Look East Policy helps forged trade and other bilateral cooperation with the ASEAN nations, and how Myanmar plays a strategic role in India's energy security. This study also concentrates on a particular energy resource---natural gas---and develops a quantitative assessment model to evaluate India and its neighbouring countries' long-term natural gas demand, corresponding infrastructure requirements, and investment demand. Specifically, it looks at how India's Look East Policy can help secure the required amount of natural gas from the ASEAN and East Asia region and at what cost.
There is nothing new with including Myanmar in a discussion on regional energy cooperation. After all, this is a country with abundant untapped natural resources, including hydro and natural gas. However, very few studies have so far focused on Myanmar's strategic location and geography and how it can provide the non-energy resources---such as land, water, human resources, and maritime channels for seaborne trade---needed to develop a robust integrated energy market. All these are essential factor inputs for large-scale energy infrastructure projects. This study thus explores Myanmar's role in helping India with the latter's own energy security.
Through a three-stage analysis of the regional energy problem, the study demonstrates that India is eventually going to depend more on gas (after coal) for its energy supply. As India's home-grown gas supply is not sufficient to meet its domestic gas demand, it currently imports more than 75 percent of its requirement from Qatar. Given the growth in future demand, growing supply volatility of Middle East gas, and increasing gas prices (including Asian premium), any dependence on the Middle East's supply makes gas more expensive and vulnerable for India. Also, since more than 27 percent of the landed price of gas and LNG in the country consists of transport cost, it is important to reduce the distance of transport.
CHOOSE FILTER