Achieving an Integrated Electricity Market in Southeast Asia:
Addressing the Economic, Technical, Institutional, and Geo-political Barriers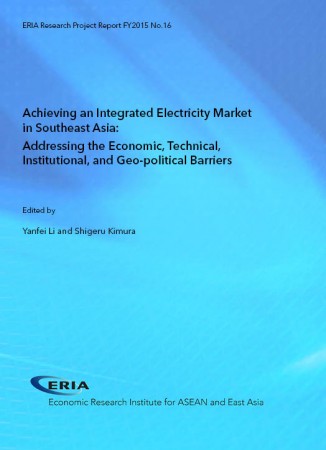 The research is divided into four interdependent research clusters. Clusters 1 and 2 apply case studies on the BIMP countries (Brunei-Indonesia-Malaysia-Philippines) using different methods. Cluster 1, led by the Institute of Energy Economics, Japan, conducts dynamic linear programming model to simulate the development of power infrastructure, interconnection, and exchange of power in this subregion of ASEAN. It emphasises the economic rationale and feasibility of electricity market integration in the region. Cluster 2, led by the Brunei National Energy Research Institute, focuses on the regulatory, institutional, and technical barriers in BIMP, and develops a road map to solve these issues. This study thus gives some insight regarding regional specific barriers or issues for other regions based on an established understanding of the common issues in principle from previous studies. Cluster 3 is conducted jointly by the Economic Research Institute for ASEAN and East Asia and the Energy Research Institute at Nanyang Technological University. The study mainly refers to the Nordic and European cases of electricity market integration and analyses both their business models and overall market design for grid interconnection and cross-border trading of electricity. In doing so, the study eventually tries to deliver implications on the possible business model and market design for ASEAN. The Cluster 4 study, carried out by a researcher from the University of Western Australia, discusses political and institutional barriers to the formation of an integrated ASEAN electricity market and derives several practical strategies in addressing such barriers as policy implications.
Full Report
Contents
Chapter 1. Integrated, Trans-boundary Energy and Electricity Markets in the BIMP Region - A Quantitative Assessment
Chapter 2. Road Map for Power Market Integration in the Brunei-Indonesia-Malaysia-Philippines (BIMP) Region
Chapter 3. Business Model and Market Design for ASEAN Electricity Market Integration: Principles, Practicalities, and Conditions for Success
Chapter 4. Electricity Market Integration in ASEAN: Institutional and Political Barriers and Opportunities
CHOOSE FILTER