TPP, IPR Protection, and Their Implications for Emerging Asian Economies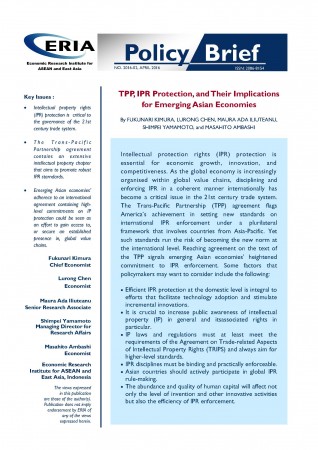 Intellectual property rights (IPR) protection is essential for economic growth, innovation, and competitiveness. As the global economy is increasingly organised within global value chains, disciplining and enforcing IPR in a coherent manner internationally has become a critical issue in the 21st century trade system. The Trans-Pacific Partnership (TPP) agreement flags America's achievement in setting new standards on international IPR enforcement under a plurilateral framework that involves countries from Asia-Pacific. Yet such standards run the risk of becoming the new norm at the international level. Reaching agreement on the text of the TPP signals emerging Asian economies' heightened commitment to IPR enforcement. Some factors that policymakers may want to consider include the following:
Efficient IPR protection at the domestic level is integral to efforts that facilitate technology adoption and stimulate incremental innovations.
It is crucial to increase public awareness of intellectual property (IP) in general and its associated rights in particular.
IP laws and regulations must at least meet the requirements of the Agreement on Trade-related Aspects of Intellectual Property Rights (TRIPS) and always aim for higher-level standards.
IPR disciplines must be binding and practically enforceable.
Asian countries should actively participate in global IPR rule-making.
The abundance and quality of human capital will affect not only the level of invention and other innovative activities but also the efficiency of IPR enforcement.
Related Articles