Publications Catalogue 2022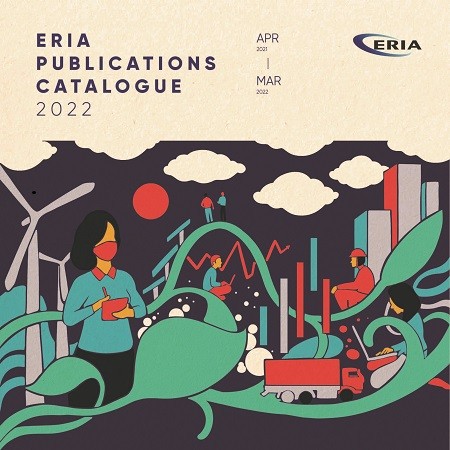 The Economic Research Institute for ASEAN and East Asia publishes books, research reports, discussion papers, and policy briefs to share and disseminate its research findings and policy recommendations. These publications cover a wide range of subjects matter on deepening economic integration, narrowing development gaps, and sustainable development – the three pillars under which ERIA conducts research. ERIA is also highly involve in energy-related research. In addition, this is the third year of ERIA conducting research on Healthcare, Environment and Agriculture section.
The global coronavirus (COVID-19) pandemic was still a key focus of our research activities in fiscal year 2021. ERIA published numerous reports, policy briefs, and discussion papers on its implications for the economy (trade, investment, and fiscal policy), energy, and the environment. ERIA also co-publishes with first-rate global publishers. In FY2021, ERIA co-published three books with Routledge, one with Springer and one with Edward Elgar.
ERIA also published the 13th Asia Europe Meeting: Multilateral Cooperation for Resilient, Sustainable, and Rules-Based Future for ASEM' was officially launched by H. E. Prak Sokhonn, Deputy Prime Minister and Minister for Foreign Affairs and International Cooperation, Kingdom of Cambodia.
In fiscal year 2021, ERIA produced a total of four books, 26 research project reports, 62 discussion papers, and seven policy briefs.
Full Catalogue
Related Articles