FDI Spillover Effects: Evidence from the Philippines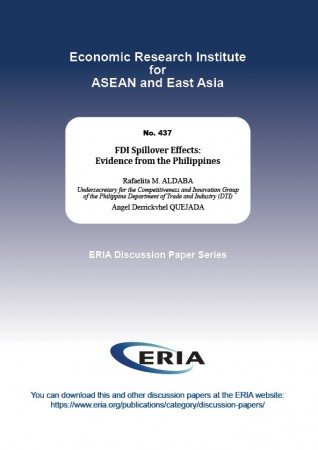 Using firm-level data in manufacturing, this chapter examines the impact of foreign direct investment (FDI) spillover effects on domestic firm performance. Through knowledge spillovers, FDI inflows affect the performance of domestic firms. Overall, there is some evidence to show that horizontal and forward spillovers from FDI have a significant positive impact on the performance of domestic firms. However, in terms of backward spillovers, the impact of FDI on the performance of domestic firms is negative and significant. The diffusion of backward spillover effects to domestic firms has remained limited due to the weak competitiveness of domestic firms and their inability to absorb the technology or knowledge being transferred.
To strengthen the absorptive capacity and productivity of domestic firms, the chapter suggests a more comprehensive approach that would combine industrial policy to improve and develop domestic parts and supplier firms with measures to create an environment conducive to the creation and expansion of FDI backward spillovers. These include upgrading industry participation towards higher segments of global value chains, innovation, human resource development, upskilling and reskilling the workforce, and liberalising ecozone regulations affecting the transactions between multinational corporations and companies outside the economic zones.
Related Articles