ERIA FRAMES | February 2017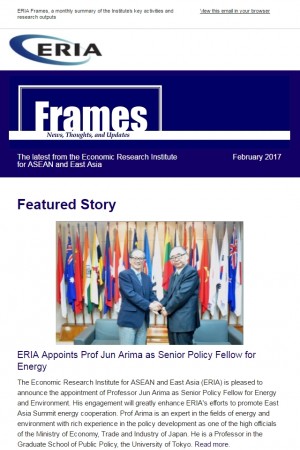 ERIA is pleased to announce the appointment of Professor Jun Arima as Senior Policy Fellow for Energy and Environment. His engagement will greatly enhance ERIA's efforts to promote East Asia Summit energy cooperation. Prof Arima is an expert in the fields of energy and environment with rich experience in the policy development as one of the high officials of the Ministry of Economy, Trade and Industry of Japan. He is a Professor in the Graduate School of Public Policy, the University of Tokyo. Read more.
ERIA welcomes the Trade Facilitation Agreement (TFA) entry into force on 22 February 2017. The TFA is a major milestone for the global trading system, as it is the first multilateral agreement concluded in the 21 year history of the World Trade Organization. Read more.
ERIA and CSIS launched the Paradigma Ekonomi website www.paradigmaekonomi.org on Wednesday, 8 February 2016. A public seminar entitled 'New Paradigm of Economic Policy in Indonesia' was held in conjunction to the launch. Read more.
Click here to read the online version with the latest stories, publications, and events.
Click here to subscribe to ERIA Frames.