ERIA FRAMES | August 2017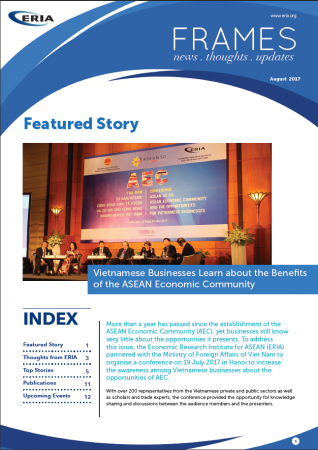 More than a year has passed since the establishment of the ASEAN Economic Community (AEC), yet businesses still know very little about the opportunities it presents. To address this issue, the Economic Research Institute for ASEAN (ERIA) partnered with the Ministry of Foreign Affairs of Viet Nam to organise a conference on 19 July 2017 in Hanoi to increase the awareness among Vietnamese businesses about the opportunities of AEC. Read more.
The Regional Comprehensive Economic Partnership Agreement (RCEP) should be established now because it could be an important vehicle for Asian economies to take the lead for its development agenda in the medium-term amidst the current global political and economic condition, said the Research Institutes Network (RIN) of ERIA in its 6th Statement. Read more.
Studies conducted by ERIA to support ASEAN integration will become even more important in the coming years, as ASEAN plays an increasingly critical role in a changing world. This is one of the key messages coming from the Ninth ERIA Academic Advisory Council (AAC) meeting held in Jakarta on 10 July 2017. Read more.
Click here to read the online version with the latest stories, publications, and events.
Click here to read and download the PDF version.
Click here to subscribe to ERIA Frames.