East Asia Updates | November 2017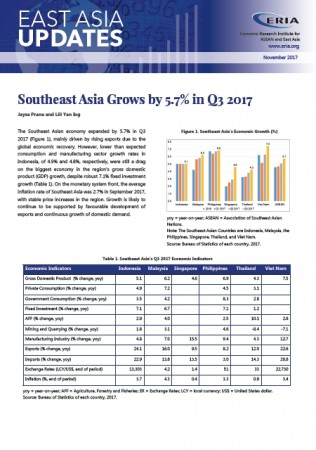 The Southeast Asian economy expanded by 5.7%
The Southeast Asian economy expanded by 5.7% in Q3 2017, mainly driven by rising exports due to the global economic recovery. However, lower than expected consumption and manufacturing sector growth rates in Indonesia, of 4.9% and 4.8%, respectively, were still a drag on the biggest economy in the region's gross domestic product (GDP) growth, despite robust 7.1% fixed investment growth.
Asia: Forging ahead with multilateralism and the globalisation agenda
November 2017 was an important month for the Association of Southeast Asian Nations (ASEAN) and East Asian countries as they hosted three important leader summits: the Asia-Pacific Economic Partnership (APEC) Summit, the ASEAN Summit, and the East Asia Summit. Although these events are held every year, this year's summits are particularly important due to the changed global landscape following the election of United States President Donald Trump.
Asia's resolve to maintain the momentum of multilateralism and globalisation are manifested through three main milestones reached at the summit. First, the Regional Comprehensive Economic Partnership (RCEP) summit was inaugurated, with the instruction by country leaders to the ministers and negotiators to intensify efforts to conclude the RCEP negotiations in 2018. Second, the leaders signed the 'ASEAN Consensus on the Protection and Promotion of the Rights of Migrant Workers'. Third, ASEAN welcomed and signed the conclusion of the negotiations for the ASEAN-Hong Kong, China (HKC) Free Trade Agreement and the ASEAN-HKC Investment Agreement on 12 November 2017.
Download the November 2017 update.