East Asia Updates | June 2017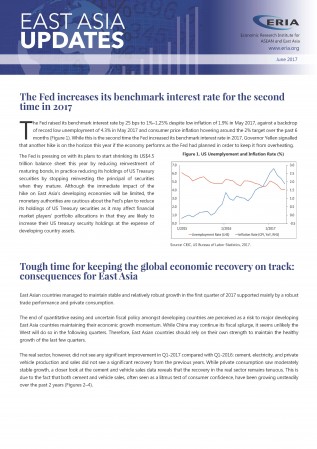 Tough time for keeping the global economic recovery on track: consequences for East Asia
East Asian countries managed to maintain stable and relatively robust growth in the first quarter of 2017 supported mainly by a robust trade performance and private consumption. The real sector, however, did not see any significant improvement in Q1-2017 compared with Q1-2016: cement, electricity, and private vehicle production and sales did not see a significant recovery from the previous years.
The Fed increases its benchmark interest rate for the second time in 2017
The Fed raised its benchmark interest rate by 25 bps to 1%-1.25% despite low inflation of 1.9% in May 2017, against a backdrop of record low unemployment of 4.3% in May 2017 and consumer price inflation hovering around the 2% target over the past 6 months. While this is the second time the Fed increased its benchmark interest rate in 2017, Governor Yellen signalled that another hike is on the horizon this year if the economy performs as the Fed had planned in order to keep it from overheating.
Download the June 2017 update.