East Asia Updates | August 2017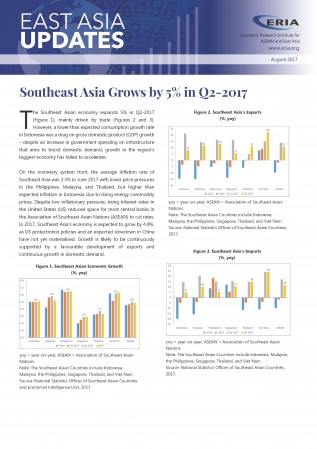 Southeast Asia Grows by 5% in Q2-2017
The Southeast Asian economy expands 5% in Q2-2017, mainly driven by trade. However, a lower than expected consumption growth rate in Indonesia was a drag on gross domestic product (GDP) growth - despite an increase in government spending on infrastructure that aims to boost domestic demand, growth in the region's biggest economy has failed to accelerate.
On the monetary system front, the average inflation rate of Southeast Asia was 2.3% in June 2017 with lower price pressures in the Philippines, Malaysia, and Thailand, but higher than expected inflation in Indonesia due to rising energy commodity prices. Despite low inflationary pressure, rising interest rates in the United States (US) reduced space for most central banks in the Association of Southeast Asian Nations (ASEAN) to cut rates. In 2017, Southeast Asia's economy is expected to grow by 4.9%, as US protectionist policies and an expected slowdown in China have not yet materialised.
Download the August 2017 update.