ASEAN and Regional Free Trade Agreements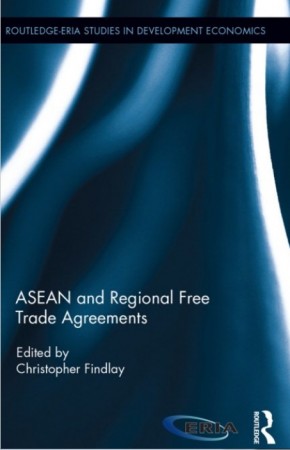 Efforts to use existing trade agreements to build a larger regional agreement face many challenges. This book considers this problem with reference to ASEAN's current agreements with key partners and the interest to build the Regional Comprehensive Economic Partnership (RCEP). The analysis of the options is framed by a focus on the use of supply chains in international business. Issues considered include those related to reductions in tariffs, trade facilitation, the treatment of investment and of services and the definition of rules of origin. The work is informed by case studies of supply chains in automobile and electronics, and in a professional service sector. The book provides a set of priority actions for better progress in taking a bottom-up approach to building RCEP.
About the Book
Edited by Christopher Findlay
376 pages | 68 B/W Illus.
Series: Routledge-ERIA Studies in Development Economics
Table of Contents
Overview, Christopher Findlay
Production Network Trade of ASEAN in the Context of China's Rise, Nobuaki Yamashita
Trade Facilitation in ASEAN+6 Economies: Provisions in FTAs, Performance and the Way Forward, Marie Isabelle Pellan and Marn-Heong Wong
FDI Liberalisation, Free Trade Agreements and Greater Regionalism in Asia and ASEAN, Shandre M. Thangavelu, Christopher Findlay and Hank Lim
Services in ASEAN+1 FTAs, Hikari Ishido
Pursuing a Consolidated Tariff Structure in the RCEP: Sensitivity and Inconsistency in ASEAN's Trade Protection, Arata Kuno, Yoshifumi Fukunaga and Fukunari Kimura
Rules of Origin in ASEAN+1 Free Trade Agreements and the Supply Chain in East Asia, Erlinda M. Medalla and Maureen Ane D. Rosellon
ASEAN+1 FTAs and the Global Supply Chain in East Asia: The Case of the Philippine Automotive and Electronics Sectors, Maureen Ane D. Rosellon and Erlinda M. Medalla
FTAs and Supply Chains in the Thai Automotive Industry, Archanun Kohpaiboon
The Electronics Industry in Malaysia, Rasyad A. Parinduri and Shandre M. Thangavelu
The Electronics Industry in Indonesia, Rina Oktaviani and Eka Puspitawati
Regulatory Restrictions in Logistics Services of ASEAN+6 Economies, Marn-Heong Wong and Claire H. Hollweg
The Nature of Relationships within Supply Networks and Their Role in the Delivery of Services in East Asian Emerging Markets, Susan Freeman, Hung Trong Hoang and Wahid Murad
More Information
Click here to purchase the book. Hardback version available.